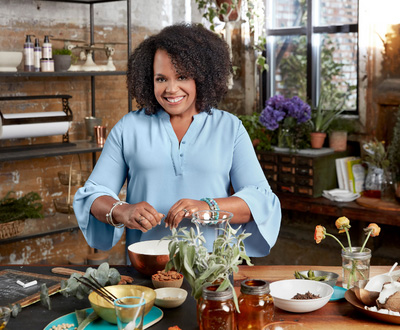 "In 1993, encouraged by mother, Carol, I began creating hair and body products made with love, in my Brooklyn kitchen. Family and friend instantly fell in love. To name my company, I listed everything I was and wanted to be, and realized the most special thing that I am is Lisa, Carol's daughter."
- Lisa Price, Carol's Daughter Founder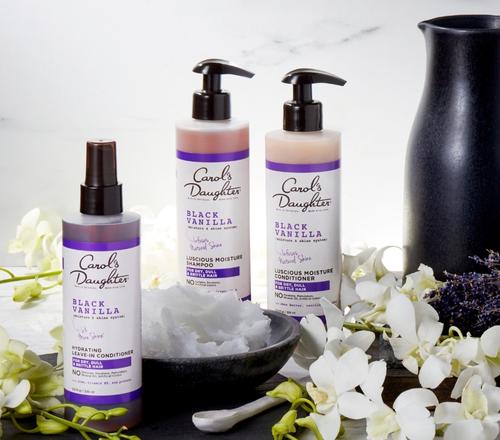 Black Vanilla – Moisture & Shine
The Black Vanilla collection infuses softness, manageability and shine. This moisture rich recipe revives dry, brittle hair with ingredients such as Sweet Clover, Aloe Vera and Vanilla. This collection will help transform dry, dull and brittle hair.​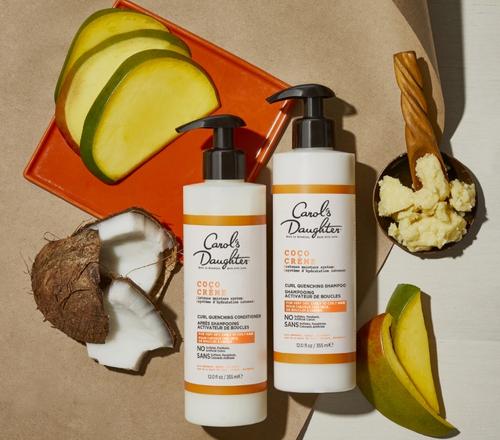 Coco Crème – Extreme Moisture
The Coco Crème collection is the ultimate guide for extremely dry hair with coconut oil-infused formulas, and sulfate-free shampoo and moisture butter for natural hair. The coco crème collection softens while it cleanses, giving very dry, curly hair an extreme moisture experience—one that you can truly feel and see.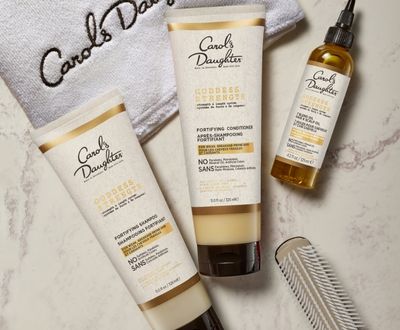 Goddess Strength – Moisture + Strength
Introducing the Goddess Strength Hair Collection. "How to stop hair breakage" is one of the top beauty queries, and we 100% get it. Get stronger hair from the first wash with our Goddess Strength system that helps support the strength of your hair as it gets longer. For weak, breakage-prone hair.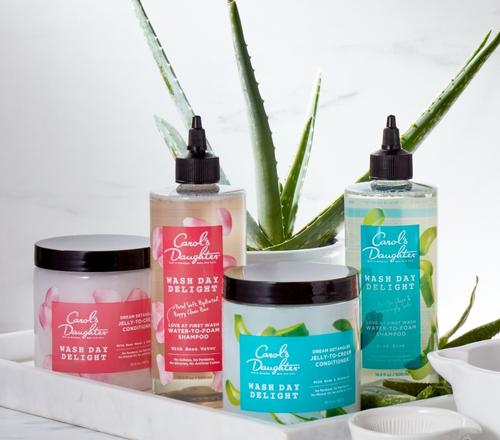 Wash Day Delight – Detangle
Introducing the Wash Day Delight Collection. Wash day can make or break your mane in natural hair routines, this is why sulfate-free hair care products can help ensure it's "make!" Not only will it deep cleanse and condition but it will also gently remove all those stubborn tangles in your hair for easy detangling.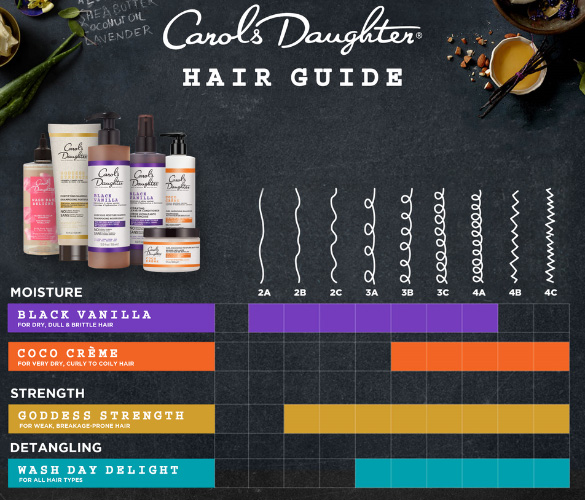 Your Curl Guide Chart
Everyone has their own hair journey and the process of discovering what works with your specific curl type can take years, even decades to master. Find out your curly hair type, from 2a wavy to 4c coily hair, and learn how to take care of it with our haircare products.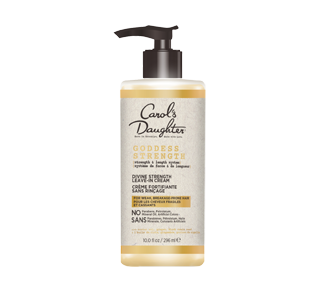 Carol's Daughter
Goddess Strength Divine Strenght Leave-In Cream for Weak, Breakage-Prone Hair, 296 ml
Carol's Daughter Strength makes a woman a goddess. Get hair that's instantly stronger with our Goddess Strength system that helps support the strength of hair as it gets longer. Our creamy leave-in conditioner, blended with Castor Oil, Black Cumin Seed, and Ginger, used along with our sulfate-free shampoo, conditioner, and hair & scalp oil, intensely moisturizes and helps to reinforce weak strands with every use. Hair is stronger between washes and better resists breakage, so it can maintain its length. Goddess Strength System - Delivers 15X stronger hair in one use and 94 percent less breakage and supports the strength of your hair as it gets longer - see disclaimer. Explore the Regimen - Goddess Strength System with Castor Oil for hair that is weak and breakage-prone includes Fortifying Shampoo, Fortifying Conditioner, Anti Breakage Hair Oil and Leave In Conditioner.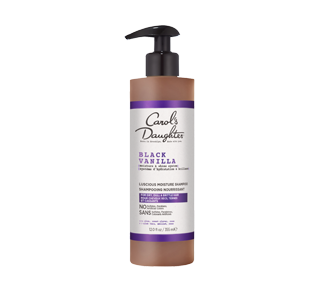 Carol's Daughter
Black Vanilla Luscious Moisture Shampoo for Dry, Dull & Brittle Hair, 355 ml
Love is our first ingredient. This lusciously scented recipe is blended with everything your hair will love and nothing it won't. When your hair has the right balance of moisture the rest just falls into place - manageability, shine, softness - no matter how dry, dull or brittle the hair. So, fix it in an instant with help from this sulfate-free shampoo. When used as a system with our Black Vanilla conditioner, it cleanses and restores moisture without adding weight to your hair. This blend is infused with Aloe Leaf Juice, Sweet Clover and Rose Extract. Our Black Vanilla system hydrates hair, so it's softer and more manageable with oodles of healthy-looking shine. Contains the warm and sensual Black Vanilla scent for a soothing fragrance experience. Black Vanilla Sulfate-Free Shampoo is color-safe and helps cleanse and restore natural moisture without adding weight to your hair - It pairs perfectly with our Black Vanilla Conditioner to help transform your hair However dry, dull, or brittle your hair is, you can help regain your natural balance of moisture, manageability, shine, and softness with Black Vanilla - The secret is our powerful ingredients - Aloe, Clover, Calendula, Rose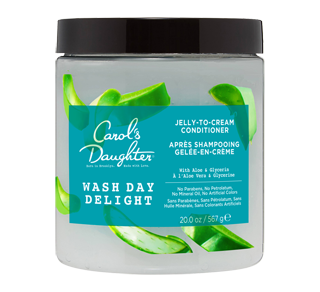 Carol's Daughter
Wash Day Delight Jelly-to-Cream Conditioner, 567 g
Bring surprise and delight to your wash day with our unique jelly-to-cream conditioner that's blended with Glycerin—a naturally-derived ingredient known to lock in moisture - and Aloe. The formula transforms from a thick jelly to a nourishing cream to instantly moisturize hair from roots to ends without added residue or weight, in just one step. Our tangle-melting technology, easily spreads through hair providing a perfect slip so curls glide past each other, minimizing tangles, and untying hair's knots, so your fingers can do the detangling in less time. Scalp and hair feel moisturized and hair feels touchably soft. See Naturally Derived disclaimer Unique jelly-to-cream conditioner to instantly moisturize hair from roots to ends and minimize tangles Instant moisture with a jelly-to-cream formula blended with Glycerin With Tangle-Melting Technology, our conditioner easily spreads through hair providing a perfect slip, so your fingers can do the detangling in less time Pair with Wash Day Delight Shampoo with Aloe for best results