Reliable, gentle and safe: exclusive to Jean Coutu, BioMagic dyes have it all! With vibrant, long-lasting results, their innovative formulas preserve your hair's vitality, making it stronger and improving its suppleness—all while respecting the planet. What more could you ask for?
New shades, new hair!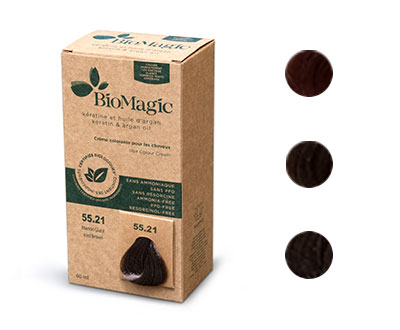 Chestnut, chocolate or milk coffee?
Pick your favorite iced shade among these three rich and deep browns.
55.21 Iced Brown; 66.21 Iced Chocolate; 88.21 Iced Milk Coffee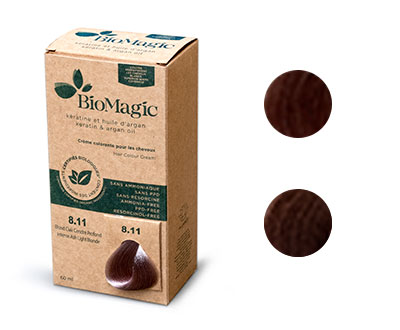 Shiny ash blonde
Are you looking for a ?? blonde hue? Take a look at these two intense ash shades, with soft chestnut highlights.
7.11 Intense Ash Blonde ; 8.11 Intense Ash Light Blonde
Beneficial components
BioMagic products don't contain any PPD, ammonia or resorcinol, three commonly used chemical agents that develop colour and adhere to hair fibers. Instead, they're based on natural, certified-organic ingredients. Here are a few of the key ones:

Argan oil
This oil, rich in vitamin E, comes from the argan tree, which is mostly found in Morocco. It's known for its nourishing and antioxidant properties that help your scalp and the lengths of your hair retain water, minimizing the drying action of colouring agents and making your hair soft, shiny and full bodied.

Keratin
This fibrous protein is the basic material of hair, covering the hair cuticles with a protective, repairing film that minimizes the damage that colouring can cause to the structure of your hair.

Heliogenol
This essential oil is derived from sunflowers and it not only prevents colour from fading, it reduces the effect of static electricity and protects your hair from external aggressors.
Show off your colour!
Available in a wide variety of shades, from light blond to mahogany, BioMagic Colouring Creams produce rich colours, are great for camouflaging white hair and are super easy to apply. Simply mix the dye and developer in a bowl, apply the solution evenly to dry hair, then rinse with warm water. Once the colouring is done, remember to shampoo and condition with macadamia oil to give your hair a boost of shine and moisture!
Shop on our online store!
Did you know that we offer a great selection of BioMagic products in our online store? Check it out and let yourself be tempted!