Thanks to your smartphone, you always have a camera at hand. But when the light is less than optimal (like when you're indoors) you need an extra helping hand. And while apps can help with basic adjustments, there's only so much they can do. Sometimes, you have no other choice than to invest in a few generally expensive but very useful accessories.
Before you buy them, however, take the time to read the boxes and make sure they're compatible with your device.
Remote control?
There are lots of models of Bluetooth remotes for smartphones out there. They're great for snapping shots when you can't be at the camera (at distances of up to about 10 meters), when you want more control of your selfies or so you can finally get the photographer into the group shot.
A thousand and one lenses
There are now a wide variety of lenses to choose from for your smartphone. Panoramas, for example, have never looked better. Fish-eye, macros and wide-angle lenses have fields that can cover from 180º all the way to 360º. Then you've got zoom lenses for when you really want to focus on the details. The choice is yours! But before you make up your mind, remember that there are an increasing number of multi-purpose lenses that include fish-eye, wide-angle and macro lenses.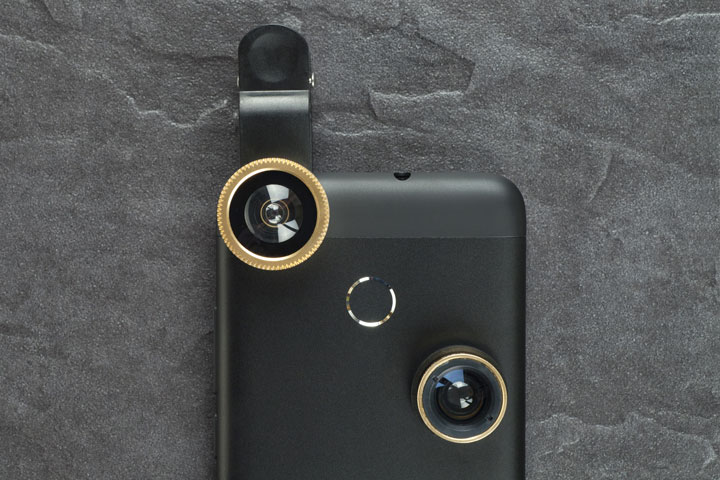 Not just any case
Love sports photography? You're going to need a shock- or water-resistant case. For the more artistically inclined, check out the retro look of the GIZMON iCA.
Get a grip!
If you're looking for image stability when snapping your shots, there are many well-designed, compact tripods to choose from. Or why not try a sticky case to help you hang on tight!
Let there be light!
The latest smartphones have higher resolution sensors capable of capturing more light than ever before, which means you can get better shots in low-light situations. If that's not enough for you, you can always purchase a portable flash, which offers greater precision and quality control of the light.