How can you immortalize pregnancy? Follow our tips to capture all the tender emotions of this joyous moment in life.
Preparation
A pregnant woman's curves are beautiful at any stage of pregnancy. But for really outstanding photos, it's best to wait until the belly is visible and has well and truly "popped"—usually around two months before the due date.
Before the photo shoot, it's a good idea for the subject to pay particular attention to her nails, as hands feature quite prominently in pregnancy shots. Beautiful hands and well-manicured nails will make all the difference. Makeup also plays quite an important role, although it's important to keep it to a minimum. You simply want to lighten the complexion with a concealer and a dab of foundation to get a smooth and natural finish. A massage or a nice warm bath will help relax the mom-to-be so she looks her most radiant for the camera.
It's all about trust
Being photographed while pregnant is not like other photo shoots; it's very intimate, so it's essential that she feel comfortable with you and confident enough to express herself. In the case of naked or partially naked photographs, the results can be sublime, but encourage her to set her limits beforehand.
It's important that you be open to suggestions, ideas, and encourage her to communicate with and take her ideas into account as well as suggest your own. As a photographer, you should try to take advantage of those candid moments between poses, which often make the most beautiful and natural pictures. Including the father-to-be and children in the photos is another great way to capture this special time for the whole family.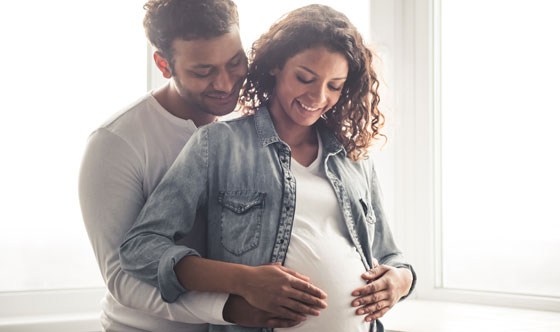 Opt for soft lighting and backlighting
The secret to a successful sequence of baby bump shots is soft lighting. Try to avoid using any kind of direct flash, especially if you're indoors, where you should only use your flash indirectly, for soft lighting. Using a reflector can highlight certain details too.
Asking your subject to stand in front of a large window to get a nice backlit effect works really well for pregnancy photos. It showcases the beautiful shape of the woman's body either in profile or from a three-quarter angle. Make sure you don't underexpose the subject, however. Even the best post-processing software can't salvage a picture that's too dark. The right exposure is essential for this type of shot.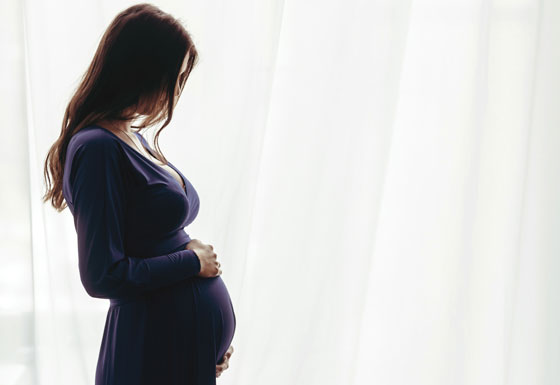 Retouching
It's hard to find fault with the latest models of cameras that are now more and more precise, but it's still important to note that high resolution has its down sides. No detail or flaw will go unnoticed, so even the most minor skin blemishes or imperfections will show. Thankfully, post-processing software like Photoshop and Lightroom allows you to lower contrast, reduce sharpness and remove imperfections. And lastly, the use of colour filters can lead to a more harmonious result.