Pixelated or dull photos are often a sign that the light sensitivity wasn't right for the scene that you photographed. Follow these tips to find the best ISO settings for sharp and well-contrasted photos under all kinds of light conditions.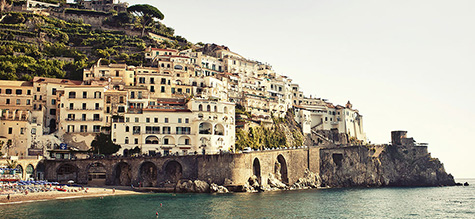 In theory
The ISO setting indicates the sensitivity of the light sensor in your camera. Most cameras offer settings that range from 100 to 1,600, or even higher with more high-end cameras. The first rule to remember is that the higher the ISO number, the more sensitive the sensor is to light. In practice, the darker the setting that you wish to photograph, when you're indoors for example, the higher the ISO sensitivity should be. On the other hand, in order to photograph a landscape filled with light, when doing winter sports for example, the ISO sensitivity should be low.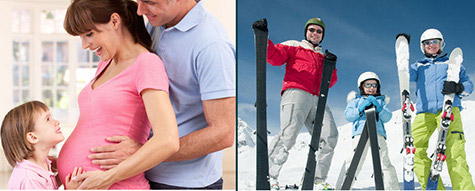 Automatic or manual adjustment
Your camera offers two ways to adjust its ISO sensitivity: automatic and manual.
Automatic mode will set the ISO to the lowest sensitivity according to the light conditions. In normal outdoor light conditions, you can trust the automatic settings.
Manual mode allows you to choose the ISO light sensitivity. Use it if your photos are too dark or if they are pixelated. If, for example, you would like to take a portrait and the sky is overcast, it's a sign that you should increase the ISO setting.
The best settings
Here are the most common and most efficient ISO sensitivity settings. Play around with them and adapt your settings as they might vary from one camera to another.
From 100 to 200 ISO: perfect for outdoors when it's sunny or for close-ups using a flash.
400 ISO: the right setting for cloudy days or for indoors with a flash.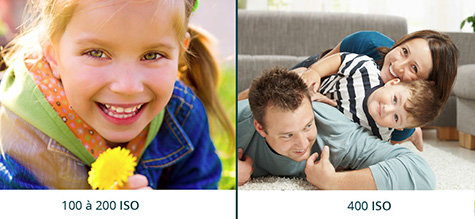 800 ISO: good for dark settings, such as indoor night photos, sunsets and when photographing moving subjects, like sports photos.
Higher than 800 ISO: save this setting for night photos, fireworks and shows.
It is generally recommended that you use a low ISO setting in order to have sharper photos. The reason being that the higher you raise the ISO setting, the higher the chance that your photos come out pixelated. If your photos aren't sharp enough, reduce the ISO and increase the exposure time.