Photographing a child's performance can be daunting. The room is often badly lit, the lights and colours won't stop changing, there's a lot of movement on stage and you likely don't have the best seats for taking pictures. But if you're prepared and you have the right equipment, you'll still be able to snap great pictures of these important moments.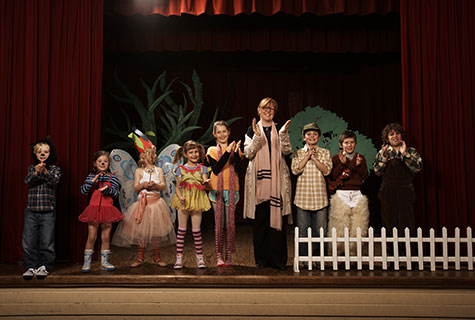 Preparation
Whether artistic or athletic, performances are a big part of your child's school year. Very often, you will be informed of the time and place well in advance. Take the opportunity to ask questions about the lighting, seating arrangements etc. at the event, or even better, scout out the location in person. Will the event take place indoors or outdoors? What's the room like? How deep and high is the stage? How far is it from the audience? Will you be sitting or standing? Movement is important too, as it greatly affects the quality of your composition. Same thing for lighting – find out whether you're allowed to use a flash.
As the event draws near, don't be afraid to ask the teacher or organizer for more information about what will happen during the performance... without asking them to give away any surprises, of course! This will help you get a better idea of what kind of lighting you will be dealing with and how much moving around the kids will be doing on stage.
Equipment
Once you've obtained this precious information, you'll be able to choose your equipment. Opt for light gear that will allow you to enjoy the show without getting in the way of other parents. If the type of performance and the setup of the room allow it, leave your tripod at home. And if you plan on using a DSLR, only bring one or two lenses; otherwise you'll spend too much time changing them. A good zoom feature will generally be good enough for this type of composition.
Settings
The worst conditions are when the performance takes place indoors and there's a lot of movement, such as a dance recital or gymnastics competition. In these situations, you'll have to make sure you get the right shutter speed and make up for the lack of light. Bring a lens with a wide aperture (minimum f/2.8) and use a fast shutter speed to avoid blur. If there is not enough light, up the ISO value. Recent DSLR models won't make much noise under 1,000 ISO. Finally, save your photos in RAW format so that you can salvage as much detail as possible using an editing software such as Lightroom.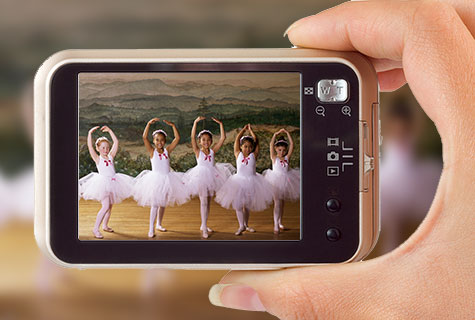 Using a smartphone?
Get as close as possible to the stage and steady your device before pressing the shutter button. Turn on the continuous shooting feature, then pick out the best shots later in the relative calm of your home. It's better to forget the flash, as you'll disturb the other parents and get very mediocre results. Smartphone flashes often result in overly bright or even washed-out foregrounds and too-dark backgrounds.
Your child isn't the only one on stage?
To change up your compositions, take both close-ups of your child and shots that zoom out to show the entire stage. If your child isn't alone on the stage, it means that you're watching a story unfold. Shots that include the set decor and you child's classmates are crucial to giving your photos context and capturing the mood on stage. If you can, get up and move around during the show, stand at the edge of the stage to get great low-angle shots.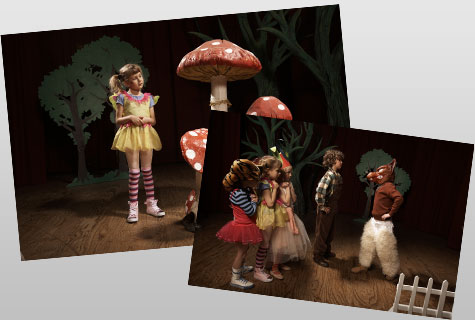 Don't have much time?
Even during a long performance, your child may only be on stage for a short time. After you've taken a few unforgettable shots, forget about your camera and give your full attention to your little one's performance. The main goal is to have fun and let your child know you're proud—even if you do find yourself getting a little emotional!