Easter is the perfect time to capture those sweet, funny and colourful springtime moments! Get inspired by some of our creative ideas—have fun making Easter cards, immortalize the holiday through photos and get ready to indulge in lots of chocolate.
Don't miss out on the preparations
Make sure to have your camera handy when the kids start decorating the Easter eggs—you'll definitely want to capture all the fun they'll be having! Try taking a few close-ups of the eggs as well as the tiny hands busy decorating them.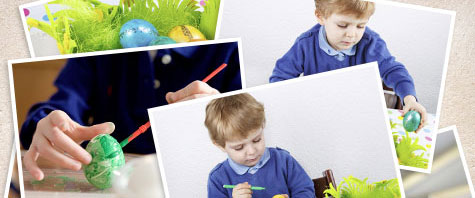 Heart-warming scenes
Surround your baby with colourful candy, like jujubes. A white backdrop and light clothing will really play up the colour contrasts, and the older kids will definitely enjoy eating the candy when you're done!
Still too cold outside? Thankfully, creating a faux indoor lawn is easy. Using a pale green blanket and some fake flowers, you can set up your "lawn" on your bed. Dress your little one up, lay him on the bed and scatter some colourful eggs all around—you'll have a beautiful background in minutes!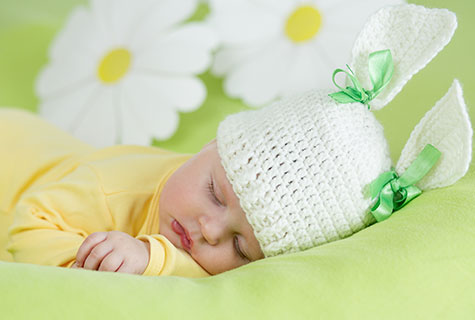 Pregnant? Transform your belly into a giant Easter egg! Lie down, write a cute saying on your belly, or draw a flower on it and surround it with chocolate eggs. Alternatively, you can try balancing an egg on your belly-button, making sure to capture your smile in the background.
Play up the "Easter Bunny" theme. Go out and buy Easter Bunny headbands–bunny ears and all–and dress up the little ones for a themed photo session. Baby not smiling? Take a photo of him sitting on the lawn with his back turned to the camera, the older kids frolicking about in the distance in search of Easter eggs.
Think Easter
Accessories like carrots, stuffed animals, baby chicks and baskets will add detail and originality to your photos.
A banner in front of the kids holding their Easter baskets will add to the festive setting, and give the impression they're about ready to start racing to their Easter treasures.
For a more traditional, but still memorable, photo of your newborn, simply fill a large basket with comfy blankets and place your bundle of joy on top.
Dress your kids in bright colours to contrast with the green grass and brown trees. Pastels are perfect for giving off that sweet spring vibe.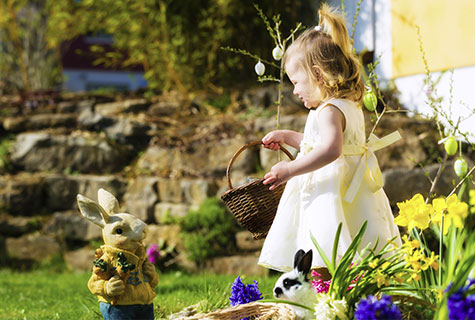 Not enough flowers blooming in your garden yet? Buy some potted flowers, especially colourful tulips as they symbolize Easter. Hide some Easter eggs nearby or sit baby by the tulips for a background that is as rustic as it is charming.
Follow those egg hunters
Remember, you have an advantage over your kids—you know where the Easter eggs are hidden. Ideally, you should envision your photos ahead of time when hiding the eggs in the backyard. Then, when the hunt begins, place yourself strategically behind a bush, or lie on your stomach with some grass peeking out in the foreground, so that you'll be able to capture those precious moments of pure happiness. Set your camera to Aperture Priority and choose a speed of 1/250 to capture the movements of your little chocolate chasers.
Are your egg hunters getting around on all fours? Place a few colourful eggs nearby, with a basket full of eggs on one side and your child on the other. Then simply wait until your little one starts crawling towards the first egg before photographing this special moment.
Make sure to capture the moment your little egg hunters are done with the hunt. Photograph them with their baskets and arms overflowing with chocolates, huge smiles all around! And while you're at it, get in a few snapshots of your children with their mouths full of chocolate.