Want to introduce your child to photography or just tired of lending them your camera? Either way–given the recent proliferation of kids' cameras—choosing the right model for your child can be daunting. Follow these tips to choose the one best suited to their needs.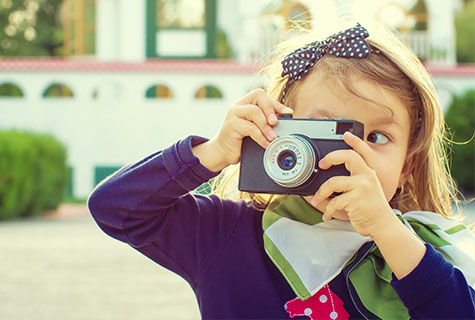 Age appropriateness
It's best to wait until your child is at least 3 before giving them a camera.
Between 3-6: Give your pre-schooler a camera specifically adapted to their age, i.e. that is very resistant, easy to handle, attractively designed and has a limited number of features. The photo-viewing screen should be wide and the trigger should make a noise when pressed.
Between 6-12: Children of this age are more careful and require an intermediate level camera that is equipped with a self-timer, a small zoom and is capable of decent resolutions. Your old digital camera or a lower-end model should make their day. If your child is clumsy, choose a flat model without a protruding lens, more capable of withstanding falls.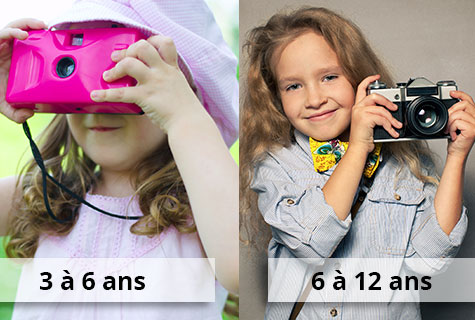 What features should I check for?
Here are a few practical features you should make sure your child's camera has:
Manoeuvrability
Your child should be able to hold the camera with ease and press the trigger by themselves. Consider camera weight and size—younger children may require a two-handed grip.
Resistance
Children live fast and hard and their toys sometimes pay the price. Their camera should be able to withstand a minimum of bumps, scrapes and drops. If it's water resistant and dustproof to boot, that's even better—though such features aren't essential, unless you're going on a beach vacation in the near future.
Operation
Camera controls should be simple, especially if the device is intended for a toddler. It should have an on/off button, a shutter-speed button and a trigger.
Check whether the camera can also film video or only take pictures, as older children may be disappointed with static pictures only.
Does the device have a built-in flash?
Can colour be adjusted, photos touched-up or effects applied directly on the photo-viewing screen?
How does your child like to view pictures? Shooting pictures is only fun if you can share them and your child is no exception to this rule. A word of caution: certain devices only allow you to show pictures on an LCD screen, which consequently should be fairly large. Some models even allow you to project pictures directly on a wall via a small, integrated projector.
Capacity and connectivity
Batteries: a rechargeable battery unit will always be better than regular, and even recyclable batteries.
How many photos can be stored on the device and what is their quality? While your child may not require a 10-megapixel camera, being able to take clear, crisp photos is always a plus.
Are photos stored on a memory card or within the device's internal memory? Can they be exported to a computer or television?
Play along!
Explain to your child how to view their photos and—for bigger kids— how to connect their camera to a TV or computer.