Every parent will tell you—babies change at lightning speed. Don't miss a single milestone, from their first breath to their first steps... learn to photograph these precious, albeit challenging, subjects. From prepping for your shoots to choosing the perfect settings, it's time to dive into the world of baby photography.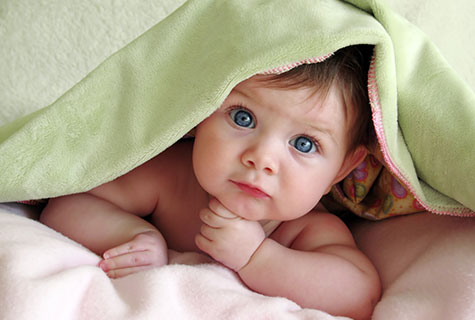 Photo shoot with baby—preparation necessary!
Although knowing how baby will act during the photo shoot is impossible, prepping beforehand is easy! Choose your background, your baby's outfits and distractions ahead of time. Here's some infant photography ideas.
If possible, set your camera's shutter button to silent, as loud noises might scare baby.
Gather some stuffed animals and toys. These will help distract your little one during the photo shoot. Also make sure to have two changes of clothing on hand in case baby spits up or drools.
Think about what colour sheet baby will be lying on during the photo shoot. Consider playing up contrasts and choosing colours that'll go well with your background, baby's outfits and stuffed animals.
A bare-bottomed baby always makes for the cutest of photos! But make sure the room is not too chilly—you'll want to keep your little bundle of joy warm and snug.
Make sure your little one has a full belly before the photo shoot, otherwise he might be too fussy to take a good picture!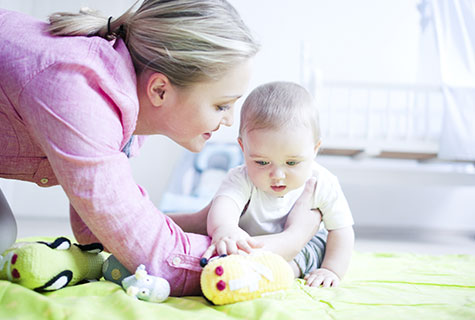 Some pointers on photographing baby
Lighting: always opt for natural lighting, as a flash will only harden your baby's features. If you're lacking light, use a reflector (like a white sheet of paper) to bask your subject in softer light, turn your flash outwards or shine a light towards the ceiling or wall. Don't forget to adjust your camera's white balance to avoid unflattering lighting.
Focus on the eyes: make your baby's eyes the focal point of the picture. Ideally, you should crouch or lie down so as to be eye-level with your subject and avoid taking shots from above—such shots tend to "squish" little ones into a frame.
Get rid of distractions: with a shallow depth of field, you'll be able to blur the background that can sometimes draw too much unwanted attention.
Is baby squirming? Set your compact camera to sports mode. If you're using an SLR or hybrid camera, set it to shutter speed priority mode (S or Tv). This will allow you to either freeze-frame baby or capture every movement.
Shoot away! Use your camera's burst mode and take a succession of beautiful photos—never miss another smile or emotion.
Zoom in! Set your zoom to mid-range before getting closer to your subject. Don't use a wide-angle, as it will only distort your baby's facial features.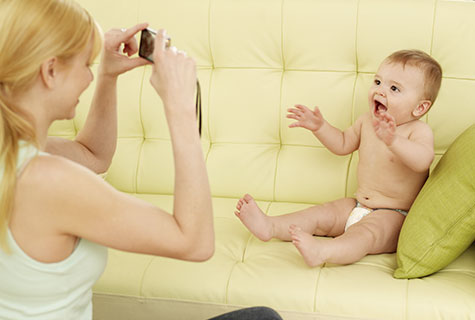 Patience, patience, patience
Your baby will pretty much do as he or she pleases, and you have nothing to gain from trying to change that! Go with the flow—respect your baby's rhythm and arm yourself with patience. If your baby refuses to stay in one position, don't bother trying to argue!