These days, we take more and more photos with our cellphones, but sometimes the results are less than appealing. Removable lenses, mini tripods, portable chargers, selfie sticks, waterproof and grip cases: discover our selection of handy accessories and tech tips for taking great photos with your phone.
Removable lenses
You don't need a reflex camera to enjoy the benefits of interchangeable lenses. You can take great photos with your cellphone simply by using removable lenses. Look for the following ibiZ lenses in Jean Coutu stores this fall: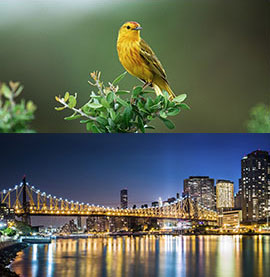 2-in-1 lens: macro/wide-angle
This super smart lens combines the power of two lenses. The macro lens is capable of focusing very closely on the details of a subject, which makes it perfect for photographing small subjects like insects and flowers.
By unscrewing the front lens, you get a wide-angle lens that's ideal for capturing scenery, buildings and group photos.
5x lens
All cellphones come equipped with a digital zoom, but the effect alters the quality of a photo because it simply reframes it. By using a 5x lens, you get an optical zoom that enlarges your subject without hindering the quality of the photo.
Fish-eye
A fish-eye lens is an ultra wide-angle lens that produces a stunning hemispherical (180°) image. It's great for taking portraits, panorama pictures and sports photos—so go ahead and get creative!
Mini tripod
Tripods aren't just for large cameras—they also work great with cellphones, especially when it comes to low-light or night photography. You can also use a mini tripod when recording short movies you want to share on social media sites like Vine and Instagram. And check out flexible tripods that let you hang your cellphone anywhere you want!
Portable charger
Taking photos with your cellphone can really drain your battery. Invest in a portable charger to help prolong your phone's battery life.
Removable flash
Lack of light can be a major disadvantage when it comes to taking pictures with your cellphone. Although all phones come equipped with a flash, direct light often produces harsher-looking snapshots that leave much to be desired. Opt for a removable flash and get great results every time.
The selfie stick
The most popular camera accessory around, the selfie stick adds inches to your arms, letting you take "selfie-style" photos from every angle! Several models available.