Want to stay beautiful, fresh and comfortable on your big day? Make sure to have these nine essentials in your wedding survival kit.
Oil blotting sheets
If your T-zone (forehead, nose and chin) gets shiny, whip out your trusty oil blotting sheets. Nothing could be simpler: just tap the oily areas to instantly absorb the excess sebum. And since it doesn't affect your makeup, you won't need any touch-ups!
We suggest: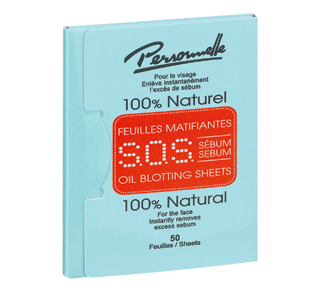 Personnelle Cosmetics
S.O.S. Sebum Oil Blotting Sheets, 50 units
Say goodbye to shiny skin! Personnelle Cosmetics 100% natural S.O.S. Sebum Oil Blotting Sheets instantly absorb excess oil on your face. They eliminate shine without ruining your makeup or leaving powdery residue. Keep them in your purse to have them when you need them!
Lipstick
While you'll have taken the time to apply your lipstick correctly—primer, pencil and brush—on the morning of the big day, your hard work may be faded by the end of the ceremony. For lips that look amazing all day long, keep a lipstick—preferably one that moisturizes—close by for occasional touch-ups: before the toast, after the meal, etc.
A mini thermal water spray
This is an essential, especially if you're tying the knot in the summer, since hot weather and redness often go hand in hand. So don't panic! In the event of extreme temperatures or intense stress, a few spritzes of thermal water that's ultra-rich in minerals will refresh, soothe and hydrate your skin. Spray as much thermal water as you want, as often as you need.
We suggest: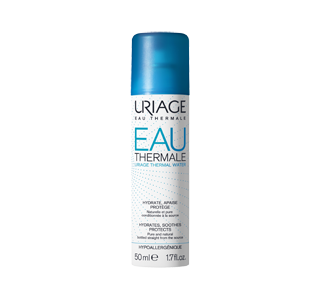 Uriage
Thermal Water, 50 ml
Uriage thermal water is a skincare water for daily use, a powerful treatment formulated with trace elements and mineral salts, a source of radiance for your skin. Packaged directly at the source, Uriage thermal water is extracted in a pure environment, protected from pollution.
A travel-size hairspray
Think your wedding 'do can last without hairspray? Think again! To ensure your magnificent hairstyle goes the distance, keep a mini bottle of hairspray in your bag for quick touch-ups. What kind should you choose? Opt for a light formula that dries quickly and has a flexible, natural finish.
Tip: Apply the hairspray approximately 30 cm from your head to avoid hair that's too sticky or stiff.
Bobby pins
You're laughing, dancing and having a ball, when suddenly you notice a few strands of hair are no longer obeying your hairspray. Don't fret! Pull out a few bobby pins, and you'll be good to go!
These little bits of metal that were once used to discretely hold hair buns in place are today veritable hair accessories that can be worn in creative shapes such as triangles, stars and chevrons.
Heel cushions
Heel cushions will come to the rescue of anyone planning to wear pumps with very high heels—you know, the kind that slim your silhouette and give you legs for miles, but make you pay for it in return. So if you want to dance all night long without the foot pain, be sure to add these comfy little cushions to your shoes. Instant pleasure and relief!
Gum, mouthwash or breath mints
On your wedding day, you'll be chatting with guests and embracing many of them (not to mention kissing your groom!). So make sure your breath stays fresh all day long.
We suggest: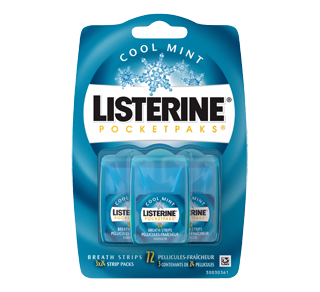 Listerine
Pocketpaks Breath Strips, Cool Mint, 3 x 24 units
Freshen your breath instantly with Listerine Pocketpaks Breath Strips. Each sugar-free strip dissolves instantly to kill bacteria that cause bad breath.
Makeup remover wipes
At every wedding, you can expect tears—of joy! If your makeup tends to run along with your emotions, makeup wipes are a quick and easy remedy. Unlike cleansers, these wipes are super easy to carry in your purse.
Antiperspirant
The race to be on time, the stress, the heat, the euphoria on the dance floor—your wedding day is bound to be an emotional roller coaster ride! To neutralize odours and control your perspiration, keep your favourite deodorant close by. It's the perfect ally for fresh, dry underarms (with no sweat stains) all day long.
We suggest: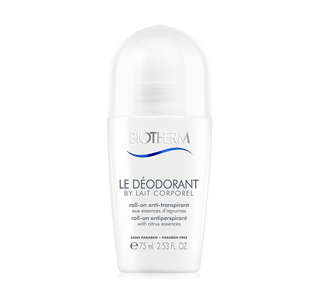 Biotherm
Le Déodorant By Lait corporel Roll-On Antiperspirant, 75 ml
48 h roll-on antiperspirant.