vitamin
the "beauty"
vitamin
To protect your skin from the ravages of time and damages caused by harsh weather, incorporate vitamin E into your daily beauty routine.

E for "eternal youth"
We all know that our body naturally produces vitamins which contribute to keeping us healthy. Because vitamin E is an antioxidant, one of its main qualities is to prevent our cells from dying, specifically our skin cells. It also protects the epidermis from UV rays and forms a barrier against the ill effects of free radicals. Vitamin E keeps skin hydrated, supple and smooth.
Well-nourished skin
A balanced diet is key to maintaining good health. That's also true for our skin. Because vitamin E is fat-soluble, that is to say it dissolves in fats, you'll find it in "fatty" foods. Therefore, incorporating them into your daily diet is a winning recipe.
A few foods
rich in vitamin E:
Eat them:
Sunflower or nut oil
on vegetables, in salads or when cooking
Egg yolk
in a sauce or salad
Butter
on vegetables, wholegrain bread or crackers, in sauces
Salmon, sardines, halibut, tuna
in sushi, salads or as a main dish
Whole grain cereals
your morning cereal, in bread or crackers
Avocado
as is, in a soup, a salad or guacamole
Peanuts, hazelnuts, almonds
as a snack, in a dessert, chopped and sprinkled over a salad
Labels
As we age, our skin cells don't regenerate as fast, which can lead to the appearance of folds and wrinkles. Keeping your skin moisturized is essential to maintaining healthy-looking skin. Vitamin E, often associated with aloe for its soothing properties, is an efficient way to prevent dry skin and a great way to keep it elastic and soft. On product labels, look for "tocopherol" (its other name) in the list of ingredients.
SOS dry skin
Our skin deserves the best in order to keep its youthful appearance as long as possible. Here are a few easy daily gestures to take care of your skin:
Lower the temperature of the water in your bath or shower to avoid drying your skin.
Use gentle pH-balanced soaps which contain moisturizing ingredients, such as vitamin E
Exfoliate once a week to get rid of dead cells.
Pat your skin dry with a towel instead of rubbing it.
Moisturize immediately after your cleansing routine to trap in humidity and help the skin absorb the products you use.
Our suggestion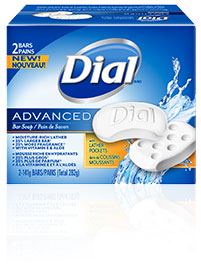 Dial Advanced Bar Soap
with vitamin E & aloe,
2 x 141g