Texture, effect, application tools… when it comes to choosing mascara, there are several things to consider. Virginie Vandelac can help you make all the right choices.
Start by examining your lashes!
If they're long and thin, use a volumizing product. The thick texture and large brush with dense bristles will give your lashes body and thickness.
If they're short and thick, use a more fluid lengthening formula that comes with a long, thin brush to separate your lashes and create natural definition.
Application
Regardless of the mascara type, the application method is the same. Place the brush at the base of your lashes and apply it upward to the tips in a zigzag motion, which prevents the lashes from sticking to one another and ensures a better coating of the lashes. If you want a pronounced curve, apply a little pressure to the brush while closing your eyelid.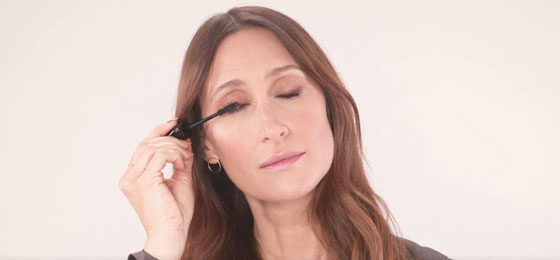 As for coats, one should be enough to enhance your look with a natural effect. If you want a more intense look, apply two coats or combine a lengthening formula with a volumizing one!

Clumps! Help! Has the mascara clumped despite your efforts? Don't panic: keep a bottlebrush handy and comb it through your eyelashes to remove the excess.
And finally, THE existential question: should you apply mascara to your bottom eyelashes? Accentuating them may be appropriate when you've applied color to your lower eyelids. On the other hand, you really don't have to and definitely shouldn't if you have dark circles. If you do apply some, be subtle and just gently place the mascara wand on the eyelashes to give them a slight tint.