Grab your brushes and illuminate your look with this bright makeup that's ideal for all ages!
An essential step: setting the stage!
Perfect makeup starts with an impeccable base. Before jumping ahead to the fun part, take time to apply concealer under your eyes and to your eyelids and then apply a natural-tone foundation to the rest of your face. Be sure to blend it well to prevent foundation from gathering in fine lines and wrinkles. Set it with loose powder. Your base has to be solid!
Pencil in your eyebrows with small strokes, starting at the outside and moving inward. Then comb your brows to even out the colour. Moisturize your lips with a balm: it will start working during the next steps and will make colour application easier – as long as you wipe off any excess first!
Deepen the look using a semi-rigid bevelled brush to apply a deeply pigmented taupe eye shadow. Start at the outside of your upper eyelids and make your way inward, stopping just past the middle to avoid giving your eyes a heavy look. For your lower eyelids, subtly emphasize the roots of the lashes, being careful not to use too much shadow. Use a smaller brush if necessary.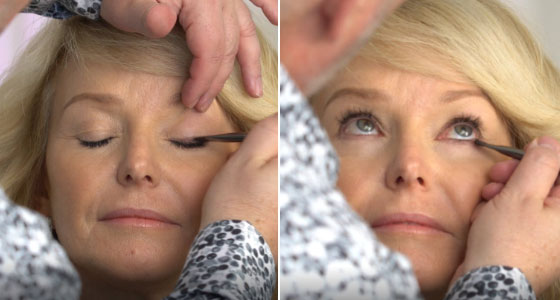 To avoid applying too much shadow to your eyes, first desaturate your brush by applying some shadow to the back of your hand.
Next, apply a gold iridescent shadow to your eyelids right up to the brow bone. (Pro tip: if your eyelids have folds or wrinkles, avoid using shadows with sequins, which can get caught in the folds and wrinkles). Add some gold to the bottom lashes and under your eyebrows, following the line of the brows. Avoid applying shadow too low on the lids. To give extra depth, add a touch of orange to the arch of the brows and, using a pearl pencil, draw a thin line on the upper eyelids to the inner corners of the eyes.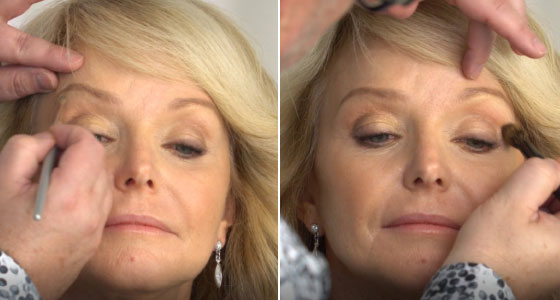 The key to achieving a great luminous look is a harmonious blend of hues in just the right amounts. Use two brushes: one small, preferably round, for the lower eyelids, and a larger brush for the top ones. As much as possible, keep your eyes open while applying your makeup so you can judge the effect as you go, making adjustments as needed, right down to the detail of the inner corners of your eyes.
To complete the eyes, add some individual false eyelashes along the upper eyelids. To keep them looking natural, don't apply them too close together and make sure that the glue isn't visible. Once the glue dries, you can apply mascara to the roots, touching up with a micro brush.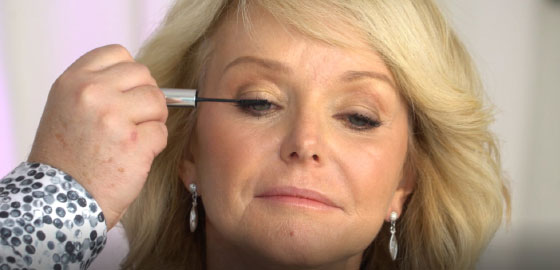 Brighten up your complexion with a flat brush, perfect to delicately add illuminator to the apples of your cheeks. Finish the look with a touch of coral blush, starting from the temples and moving forward – or downward, if you have a round face, to better define the contours.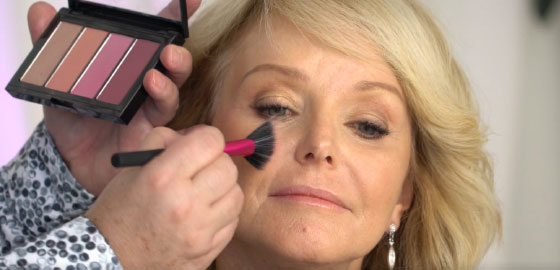 Make your lips shine by mixing slightly translucent light beige and soft coral with a brush (don't use a lip-liner pencil!).
The last step: add mattifying powder to the areas you don't want to shine and you're done!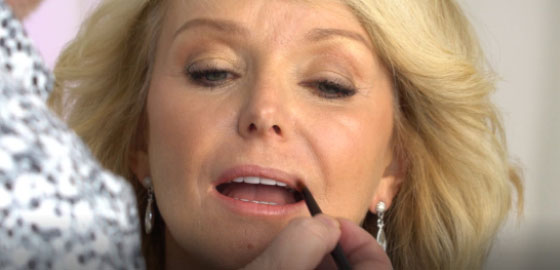 Our suggestions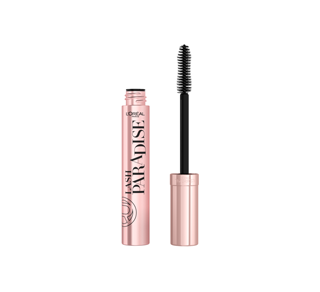 L'Oréal Paris
Voluminous Lash Paradise Mascara, 8 ml
Take your lashes to paradise! There is L'Oréal Paris' first mascara for voluptuous volume and length, and a dramatic effect.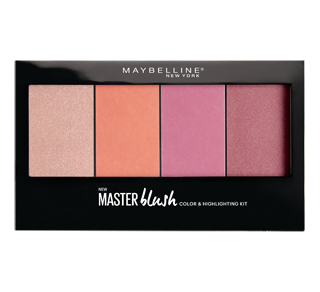 Maybelline New York
Facestudio Master Blush Colour & Highlight Kit, 10 g
Unlimited artistry! Draping: colour and highlight for dimensional statement cheeks.