Use SPF daily and reapply throughout the day
UVB and UVA rays can penetrate windows, so even if you spend the day inside in classes, sun rays can still reach your skin. SPF should be applied as the last step in your morning skincare regime, after moisturiser. However, it is important to remember that SPF lasts only about 2 hours, so make sure to reapply through the day to stay protected.
Strengthen your skin's moisture natural barrier
Through fall and winter, skin is more likely to be dry and dehydrated given the changes from warm to cold weather can weaken the skin barrier. Focus on strengthening your skin barrier by using a moisturizer with Urea and Ceramides, a dermatologist favorite is Eucerin Complete Repair Moisturizing Cream locks in moisture and strengthens the skin's natural barrier for skin that immediately looks and feels softer and smoother for 48 hours. Non-greasy and fast absorbing.
Get your (beauty) sleep
Achieving a restful sleep is essential for proper skin cell rejuvenation but also essential for proper concentration and brain performance in school. Before bed, wind down with a "for fun" book or listen to calm music.
Stay hydrated
Dehydration has been known to cause dry skin. Keep a reusable water bottle in your bag making sure to drink about 12 cups or 3 liters a day. More on, drink a glass of water before you drink caffeine in the morning to kick-start your metabolism.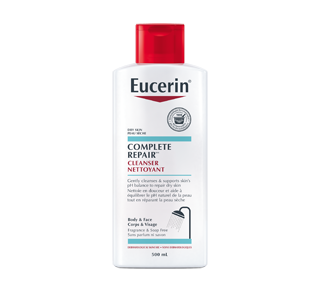 Eucerin
Complete Repair Face & Body Cleanser for Dry to Very Dry Skin
Eucerin Complete Repair Cleanser for body and face can be used daily to gently cleanse and protect the skin from drying out. Body and face wash developed for sensitive and dry skin that rinses free without residue. This formula supports the skin's pH balance by cleansing with a non-irritating, soap-free formula that does not strip the skin's natural moisture.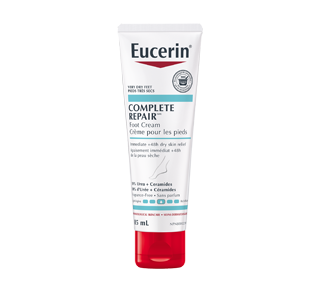 Eucerin
Complete Repair Daily Moisturizing Foot Cream for Very Dry, Rough Skin
Eucerin Complete Repair Moisturizing Foot Cream exfoliates and intensely moisturizes very dry, rough feet, dry feet and heels. It is clinically proven to immediately relieve very rough, dry skin for 48 hours for feet that look and feel smooth and healthy again.