Nothing will ruin your night like foundation that starts to shine or eyeshadow that fades. Here are a few good strategies to help your makeup last until you get back home!
For long-lasting makeup, delicately apply a Beauty Flash Balm by Jean D'Estrées on your face before you put on your foundation. This will firm your skin and ensure an even complexion all night. For an outstanding look, you can also use a makeup setting spray such as Magnifix by Lise Watier or Makeup Setting Spray, Matte by NYX Professional Make-Up. It will act as an invisible barrier against heat and humidity. And to make sure your eyeshadow doesn't fade, use a special base to prevent it from gathering into your eyelid creases.
NYX Professional Makeup
Setting Spray, Long lasting, Matte Finish, 60 ml
DEMAND PERFECTION WITH YOUR SETTING SPRAY: A lightweight makeup setting spray that works hard to make sure your makeup stays put.
For impeccable eyelashes, curl them with an eyelash curler before applying a long-wearing mascara, like Ultra Volume Mascara by Revlon.
For perfectly defined lips, use a Lipliner Smear Proof pencil by Personnelle Cosmetics. Draw the contour of your lips to prevent your lipstick or lip gloss from creasing into your lip's fine lines.
If you want luscious lips, the Infaillible lipstick by L'Oréal Paris is a good way to ensure your smile remains radiant until dawn. It won't leave a stain on glasses, or your date's cheek. And contrary to some long-wear lipsticks, its light and pleasant formula doesn't dry your lips out so you can stay comfortable all night.
Blotting papers do wonders on shiny skin. All you need to do is use a small square on your face's oily zones to absorb sebum and seal your pores. Lise Watier Oil blotting papers are incredibly practical and come in a lovely small case that you can easily stow in your purse.
For touch ups, make sure to always have some makeup remover wipes on hand. That way you can erase small blunders or touch up your makeup during the evening. Wipes by Bioderma don't need to be rinsed and can also be used to quickly clean your face when you come back home exhausted after a night with your friends.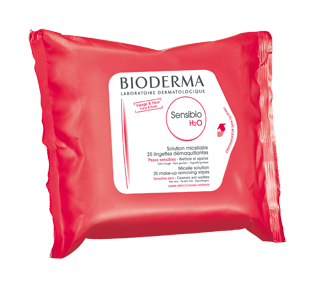 Bioderma
Sensibio H2O Wipes, 25 units
Cleansing and make-up removing dermatological wipes which respects the fragility of sensitive skin. Biodegradable.