Here are five easy ways to keep your nails healthy, smooth and strong.
MAINTAIN YOUR CUTICLES
Are your cuticles invading the surface of your nails? If so, you'll want to keep them pushed back to the base of your nails. Start by softening them, either by covering them with an emollient gel or soaking them in warm water for a few minutes. Make sure your nails are bare, free of any trace of polish or other products.
Once your cuticles are soft, gently push them back with a cuticle stick. But don't cut or tear them off! They form an important protective barrier against bacteria.
Do your nails tend to harden or crack? To avoid painful (and sometimes bloody) surprises, treat them daily with a nourishing oil, which can also be applied to polished nails.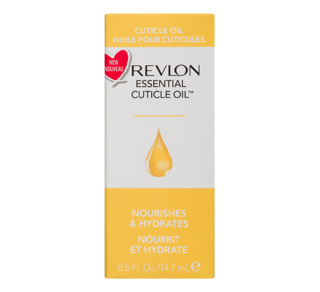 Revlon
Essential Cuticle Oil, 14.7 ml
Nourishes and hydrates. Blend of natural oils & vitamin E.
NOURISH YOUR NAILS
Nails that break at the slightest shock, causing striations, are probably hungry and thirsty! To replenish them, drink plenty of water and eat foods rich in vitamins A and C (citrus fruits, carrots, green vegetables, etc.), biotin and fatty acids. For maintenance, once or twice a day for a few weeks, give your nails a moisturizing bath by soaking them in a mixture of sweet almond and lavender oils or apply a strengthening treatment. It's important to respect the recommended duration of the strengthening treatment: overdoing it will actually weaken the surface of your nails, the opposite of what you want!
If your nails tend to split, you probably need to change how you file them. The right way is to file them from the outside toward the center, avoiding back and forth movements, which create irregularities. It's best to use cardboard files instead of metal files, which are more likely to damage keratin. Leave your nails alone after a shower or bath: wet nails are weak nails.
STIMULATE GROWTH
Do your nails grow too slowly or worse, do you bite them? Help them out with an ultra-moisturizing cream rich in keratin and collagen to protect them and stimulate growth. And, above all, stop biting them! In addition to damaging them, this bad habit can alter tooth enamel and promote the proliferation of bacteria.
PREVENT YELLOWING
Dark polishes are ultra-glamorous but if you don't take proper care, they can leave your nails looking yellowish (not so glamorous!). To prevent this problem, apply a base coat. Is the damage is already done? Don't panic! Instead of hiding the problem with more polish, use a product that will tone down the yellow and restore the natural shine of your nails.
MOISTURIZE YOUR HANDS
If your nails are hard, they need moisturizing, just like your skin! Apply cream to them as often as you do to your hands. Use a formula rich in natural oils and active reparative ingredients, which are formidable allies against the drying effects of polishes and solvents. Each time you use your hand cream, make sure you gently massage it into your nails as well. When moisturized daily, nails will be stronger and brighter.