Your best friend for a fast, easy beauty routine: a product that gives you a radiant complexion while protecting your skin from harmful UV rays. Here are five great suggestions for the outdoors, the office, or evenings out.
Liquid formulas
Anthelios Ultra-Fluid Tinted Lotion from La Roche-Posay
Sun Protection Factor (SPF): 50
What is it? A lightly pigmented mineral sunscreen with liquid-like texture that protects your skin while creating a more uniform complexion.
We like it because it's light, dries quickly after application and has a universal shade that enhances any natural complexion.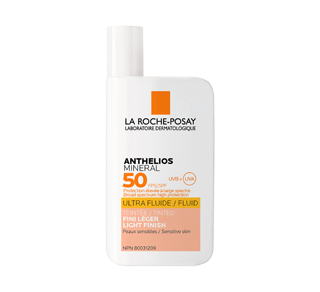 La Roche-Posay
Anthelios Mineral Tinted Ultra-Fluid Lotion SPF 50, 50 ml
100% mineral sunscreen in an universal shade for an instant natural glow. Protects from sunburn. Sensitive skin.
Photoderm Nude Touch from Bioderma
Sun Protection Factor (SPF): 50+
What is it? A light product, with a powdery finish, created especially for mixed and oily skin types.
We like it for its mattifying effect that conceals imperfections, improving the appearance of your skin while blocking UV rays.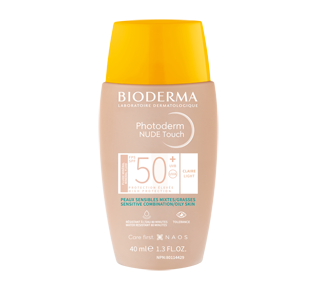 Bioderma
Photoderm Nude Touch High Protection SPF 50+, 40 ml, Light
Bare skin effect mineral sun care
UV 50 Sunscreen Multi-Protection Tint from Clarins
Sun Protection Factor (SPF): 50
What is it? An all-in-one sunscreen, smoothing powder and mattifying paper.
We like it because it reduces the appearance of blemishes without drying out your skin or affecting your makeup.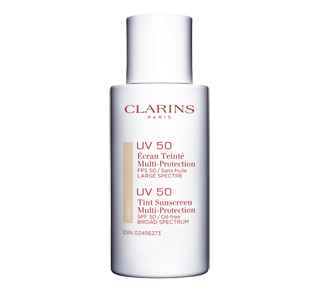 Clarins
UV 50 Sunscreen Multi-Protection Tint SPF 50, 50 ml, Light
This travel-friendly, SOS kit will be your new BFF to enhance, smooth, and mattify your skin.
Solis+ Anti-Age Loose Mineral Powder from IDC Dermo
Sun Protection Factor (SPF): 50
What is it? A loose mineral powder enriched with natural ingredients and antioxidants to protect your skin against sunburn and reduce the signs of aging.
We like it because it goes on quickly and reduces the appearance of fine lines and wrinkles.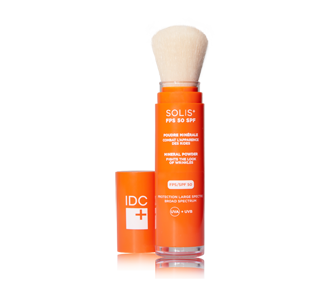 IDC Dermo
Solis+ Mineral Powder Fights The Look of Wrinkles 50 SPF, 6 g, Clear
This quick and easy-to-apply SPF 50 loose powder provides instant 4-season protection against sunburn and the harmful effects of UVA and UVB rays. Its powder texture helps to absorb and regulate excess sebum. This 100% mineral sun protection loose powder contains antioxidants as well as natural, calming and mattifying ingredients. The powder also helps preventing premature aging signs and reducing the appearance of wrinkles and other signs of photo-induced aging including sagging skin and pigmentation spots. Easy, quick and convenient use for consistent protection throughout the day.
The High Protection Tinted Compact from Avène
Sun Protection Factor (SPF): 50
What is it? A mineral compact enriched with thermal water that's ideal for any complexion.
We like its soft, supple texture and its formula, ideal for sensitive, intolerant, or vulnerable skin types.