Fancy a new fragrance or want to treat your man? Here's a selection of 13 fragrances that are bound to turn heads.
Light summer scents give way to more concentrated perfumes to celebrate autumn. While there are perfumes for daytime and for evening wear, knowing where to apply it is essential for good sillage. Women should apply some on their nape, temples, inside their elbows and wrists, behind their earlobes and knees—and come nightfall—in their cleavage. Men can spray a light amount of eau de toilette on their chest, neck and wrists as well as inside their elbows. Perfume storage is another important point. Ideally, you should store perfume in a drawer and preferably in a cool place—as it doesn't withstand heat and light too well.
NEW FRAGRANCES FOR HER
Baiser de Neiges, by Lise Watier, a floral eau de parfum with watery notes of roseberry, tangerine, jasmine and lily of the valley...
Downtown, by Calvin Klein, a woody floral musk for young women between the ages of 25 and 35.
Guess Girl, a fruity, floral eau de toilette with bergamot, melon, raspberry, acacia and orchid notes...
Honey, by Marc Jacobs, a sparkling, floral and fruity eau de parfum.
Just Cavalli Nero Assoluto, by Roberto Cavalli, the enveloping scent of orchid, black vanilla and ebony wood...
Killer Queen, by Katy Perry, the singer's third perfume exudes notes of wild berry, plum and bergamot...
Première, by Gucci, a woody floral musk that blends bergamot, orange blossom and white flowers...
Untold, by Elizabeth Arden, a sophisticated, fruity floral with notes of pink pepper, pear, blackcurrant, gardenia, and jasmine...
Viva La Juicy Noir, by Juicy Couture, a sensual fruity floral eau de parfum in an iconic bottle.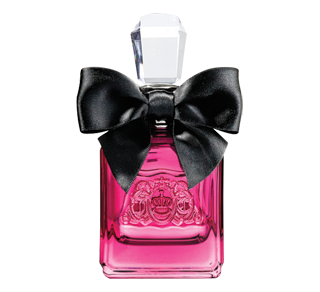 Juicy Couture
Viva la Juicy Noir Eau de parfum, 50 ml
Viva la Juicy Noir embodies the woman who is dangerous in a good way. She likes her eyes smoky and her lips rouge. Unapologetic, she takes risks and gets rewarded. A rich interpretation of the signature Viva la Juicy scent, Viva la Juicy Noir highlights the succulent ripe berry notes and gourmand accents, while adding a juicy touch of honeysuckle and a sultry hint of sandalwood.
NEW EAUX DE TOILETTE FOR HIM
Chrome United, by Azzaro, a fresh, woody, electric blue musk.
Eau de nuit, by Giorgio Armani, a refined and elegant, spicy, oriental scent.
Encounter Fresh, by Calvin Klein, an aromatic, woody scent with mojito, lavender and cardamom notes…
Polo Red, by Ralph Lauren, an elegant, spicy, woody scent with saffron, grapefruit, lemon, cranberry, sage and cedar notes…