When it's 30 degrees in the shade, the last thing you want to use on your hair is a curling iron! Here are three quick and easy hairstyles that will turn heads (without making yours sweat!)
BARRETTES
Windswept: it's what your hair should be this summer. Don't worry about drying it in the fresh air or letting your hair's natural part show through. When it comes to accessories, think minimalist. Must-haves this season: barrettes. Clip them into your hair diagonally, near the temples, with your hair parted down the middle, or use them to keep longer hair off to the side. When it comes to style, think discreet, almost invisible, or decorated with little rhinestones for a touch of low-key elegance.
Good to know:
Mixing shapes, materials and prints may be trendy but it can be risky. Unless you're sure of creating a winning combination, it's better to stick to a single style when combining your accessories.
Do clips slip too easily out of your hair? Applying some hairspray behind your barrettes can help them stay in place. Just make sure you don't use a sticky product and keep the bottle a good distance away from your head, for a natural finish!

While the side-part is a classic, the centre part, ultra popular for a year now, hasn't had its last word! If do you use a centre part, be sure to make it a little imprecise so you don't highlight any asymmetry in your face.
THE LOW PONY TAIL
It's the queen of effortless speed and elegance. Add volume by slightly scrunching the hair at the top of your head. Then, gently back-comb your hair and tie it at the base of your skull. Once your elastic's in place, tuck away any stray hairs and apply some hair spray. The whole look is done in five minutes!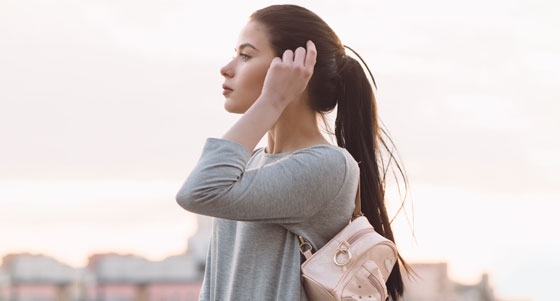 THE SCRUNCHIE BUN
Revive a popular look from the 80s and let summer breezes cool the back of your neck. Make a very high ponytail, then wrap your hair around the elastic band and fix it in place with some invisible bobby pins. It's that simple!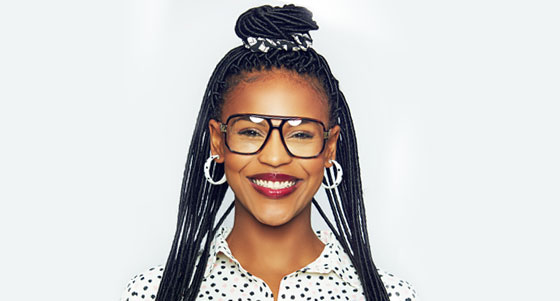 Good to know:
You can tie up all of your hair in a bun all at once with just your scrunchy. You'll get a more relaxed look and your hair, already put to the test by the sun, chlorine and salt water, will thank you.Is your hair too long or too thick for a complete bun? Try the half-bun version: it's just as easy to accessorize.