The smokey eye came to life during silent movies but the 60s and 70s made it a real classic. Ever since Twiggy, the smokey eye, a gradient of shades that appears like a halo around your eyes, has become to makeup what the little black dress is to fashion: the epitome of elegance and versatility, flattering at any age. So whether you're 20, 35 or 50, just follow this quick guide to get perfect smokey eyes.
CREATING THE PERFECT SMOKEY EYE: FOLLOW THESE STEPS AND TIPS
Preparation
If you can, try to apply an eye-contour product first: it will brighten the look of your eyes while reducing bags and minimizing wrinkles. Make sure you also do everything you can to enhance your complexion: apply base makeup over your entire face, followed by a concealer and a moisturizing foundation. Afraid of spoiling the look by applying makeup to your eyelids? Here's a trick: apply a layer of transparent powder under your eyes. Then, if any pigment falls onto it, simply sweep it up with a stroke of your brush before applying your blush or illuminator.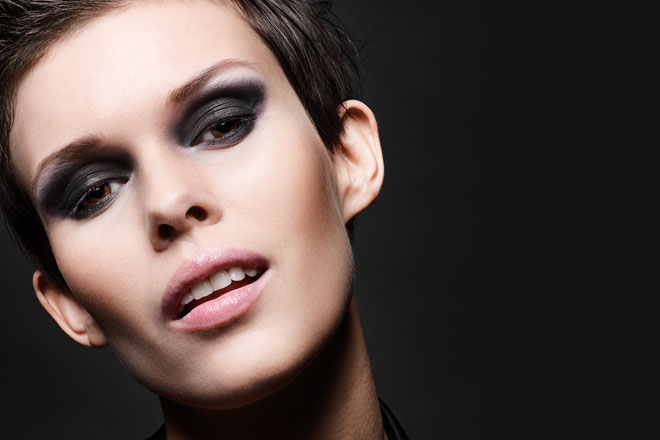 Our suggestions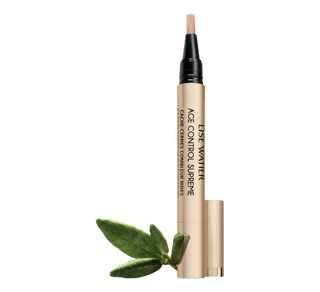 Watier
Age Control Supreme Filler Concealer, 2.5 ml
Formulated with concentrated Labrador tea extract, this concealer fights the appearance of fine lines and wrinkles and improves skin elasticity and tonicity.
Just follow the steps...
With a smudging brush, apply a light coat of makeup to the upper eyelid, then diffuse it upward, under the brow bone.
Draw a line along the root of the upper lashes then blur it with a brush or a finger.
Use a kohl pencil; it's easier to work with than a felt or liquid liner.
Using a flat brush, apply the same dark eye shadow to the center of your eyelid. Take care to create a subtle gradient between the line and the lighter shade.
Draw a thin pencil line near the bottom eyelashes, then soften it with a brush or sponge. To accentuate the shaded effect, place a little dark shadow on the outside corner so it meets up with the shadow on the upper eyelid.
For the finishing touch, just add a layer (or two!) of mascara to intensify the look. Sure, black goes with everything, but why not use a shade that's closer to smokey!
Pro tips: To eliminate excess eye shadow (and avoid looking like a racoon), shake the brush by tapping it on the back of your hand before running it over your eyelids. Feeling bold? Try adapting the technique to your own tastes by enriching the gradient with a complementary shade. Just keep in mind that you're trying to create harmony between the colours and keep the overall look from being too heavy.
Close up on colour
Sure, the number one smokey shade is black. No wonder, it works well on everyone. But brown or dark blue versions have also been popular for a long time. While you're at it, why not try exploring bronze, gold, plum or burgundy? If the last few years have shown us anything, it's that almost any shade goes well with the smokey look.
What about the rest of your makeup? To ensure all eyes are on your eyes, simply brush your eyebrows with a touch of skin-tone pencil, and complete the look with nude, rosé or raspberry lips, tinged with that "just bitten" mouth effect.
WEARING THE SMOKEY EYE...
When you're 20
It's time to experiment! Go for extremes, give it that imperfect punk look, a little "day after the night before." Choose a cream eye shadow and apply it roughly to the root of the eyelashes, extending it towards the outside for a tapered shape. Get gutsy with the colours, too, choosing shades like purple, green or electric blue.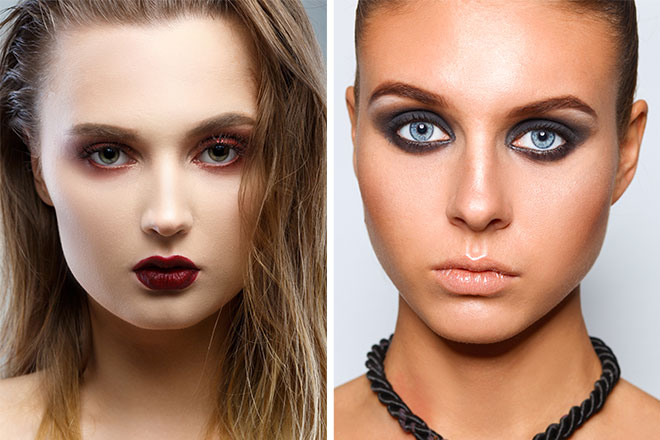 When you're 35...
Go for rock and glam, without skimping on chic. Use a pencil to draw a line under the eyelids and accentuate the sulphurous effect of your makeup by using a blush powder. For a smoother version of smokey, which adds softness and light to your eyes, try blending brown pencil with coal eye shadow.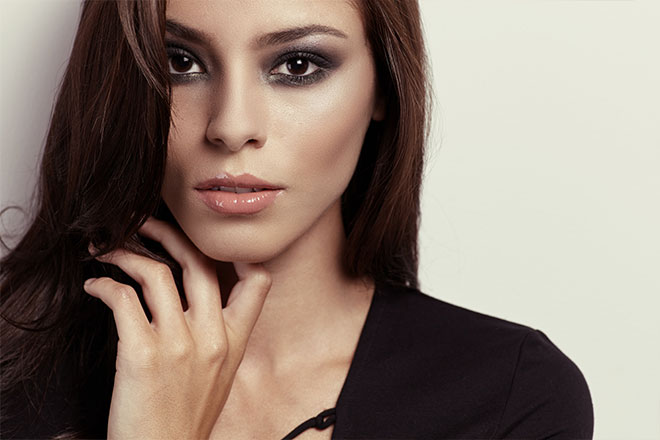 Pro tip: Are your eyes starting to get that sunken look? Avoid applying dark shades under the upper brow. Instead, apply a bit of nude makeup and only use the shadow on three quarters of your eyelid.
When you're 50...
The goal: to open and invigorate your eyes. Try taupe, slate or flesh tones, and add a little light makeup to the inner corner of your eyes to brighten your look. Focus your attention on your upper eyelid. If you do choose to add makeup to your lower lid, forget the pencil; use a bevel brush to squeeze a little light makeup along the edges of your lashes.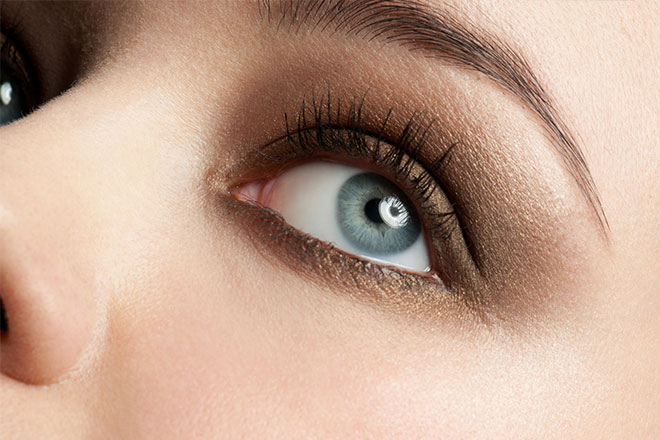 Pro tips: Choose a matte finish for your eye shadows: it won't emphasize your wrinkles the way iridescent finishes do.