Rooted in hair care, the skinification trend is all about treating your hair with as much care as you would your face or body. In terms of makeup, that means using hybrid products that care for and enhance your lashes, skin and lips. Want to try? Here are a few suggestions for your beauty kit.
Minimalist, natural and effective
Products inspired by skinification share a few great features:
They only contain a few, carefully chosen ingredients.
They're made primarily of vegetable or plant-based extracts.
They're free of chemical components like parabens or mineral oils.
Revitalizing mascara
Just like with your hair, your eyelashes are subject to daily environmental harm that can make them dry and brittle, so they thin out more quickly. To help protect them, choose a mascara that contains a nourishing balm with a creamy formula that moisturizes your lashes, giving them volume, length and density.
A few key ingredients
For added moisture: natural oils that soften your lashes, making them more flexible;
For added volume: fortified active ingredients that are rich in Omega 3 and 6 acids, like colza-seed extracts;
For long-lasting hold and easy makeup removal: natural polymers from vegetable-based sugars.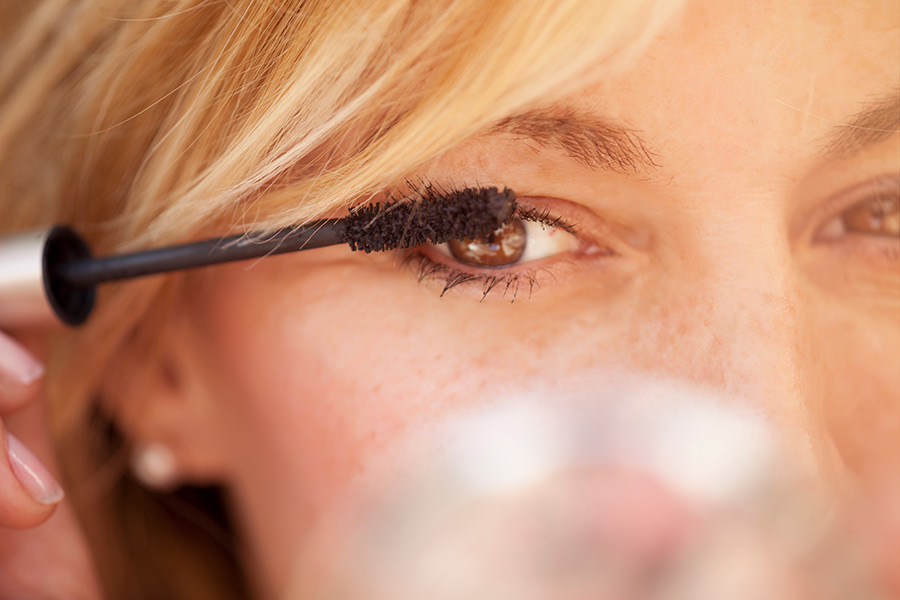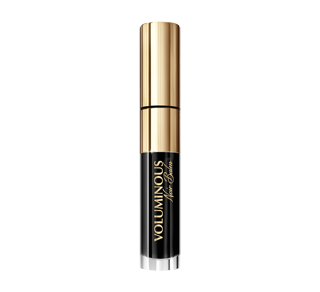 L'Oréal Paris
Voluminous Black Balm Mascara, 7.7 ml
More volume. More care. No compromise. Finally, a mascara formulated with 99% natural origin ingredients* and lash-caring benefits that does not compromise on your desired volumizing mascara results and all day wear. L'Oreal Paris introduces our first ever balm-in-mascara, Voluminous Noir Balm. This breakthrough formula* mascara delivers bold clean volume, length and definition creating up to 7x fuller lashes. This washable mascara lasts all day and is clump, flake, and smudge resistant. Noir Balm's flexible elastomer brush captures and coats all lashes from root to tip in a caring formula infused with ingredients to condition lashes. The 99% natural origin formula is allergy tested, fragrance free, hypoallergenic, suitable for sensitive eyes and clean from parabens and mineral oil. *We consider an ingredient to be naturally derived if it is unchanged from its natural state or has undergone processing yet still retains greater than 50% of its molecular structure from its original natural source. The remaining ingredients constitute 1%.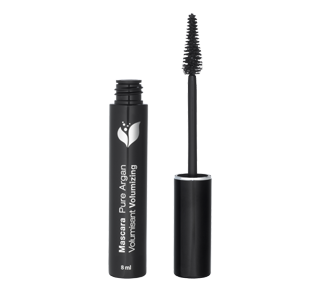 Zorah
Volumizing Treatment Mascara, 8 ml, Black
Gives each lash breathtaking volume. Enriched with organic argan oil. Ensures perfect definition.
CoverGirl
Lash Blast Clean Volume Mascara, 13.1 ml
A clean and vegan formula that works! The volumizing mascara is free from parabens, sulfates, talc, and mineral oil and is infused with argan and marula oils, leaving lashes feeling conditioned. This long-lasting vegan mascara creates 10x the volume of bare lashes with no smudging or clumping. The brush applicator separates and defines for longer, fuller lashes.
A nourishing foundation
The popular no-makeup trend is all about creating a fresh, naturally radiant complexion. To create that look yourself, choose products that hydrate and plump up your skin, while concealing imperfections and enhancing your radiance subtly.

A few key ingredients
For plump, well-moisturized skin: hyaluronic acid, rich in water;
For smooth skin grain and a unified complexion: soothing, nourishing ingredients like coconut milk and aloe vera.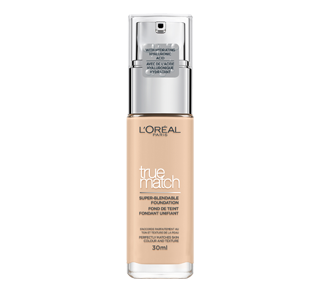 L'Oréal Paris
True Match Super-Blendable Foundation, 30 ml
Re-discover True Match super-blendable foundation, a skin-care infused foundation, available in 45 shades. It's new pump bottle design make the application process easy while maximizing the amount of foundation needed based on your preferred level of coverage. The formula provides ideal, natural and true-to-skin coverage. True Match is enriched with hyaluronic acid and improves skin quality in just 2 weeks and reveal more radiant and healthier looking skin. True Match foundation breaks down the boundaries between your skin and your foundation, so you can't tell where you foundation begins and your skin ends. True Match provides 24hr hydration thanks to its moisturizer-in-a-foundation complex with 80% moisturizing care. The foundation enhances your natural glow whilst allowing your skin to breathe with a non-comedogenic formula and suitable for sensitive skin. The formula gives a natural, bare-to-skin coverage, ideally matching your skin undertone. Available in 45 shades, to perfectly match your skin tone and texture. If you have used True Match super blendable foundation before, discover our shade guide to find your new True Match shade.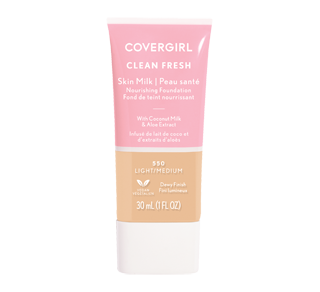 CoverGirl
Clean Fresh Skin Milk Foundation, 30 ml
Show off fresh, dewy and hyrdated skin with COVERGIRL Clean Fresh Skin Milk. Formulated without formaldehyde, phthalates, parabens, sulfates and talc, this lightweight nourishing liquid foundation gives your skin the moisture boost it craves with a delicate infusion of milky coconut and soothing aloe. You'll experience a glowing, dewy finish that lasts all day long, blurring imperfections and creating a more even skin tone.
Smoothing lipstick
The skin on your lips is thinner than the skin on the rest of your face, so it's more vulnerable to aggression, and has a harder time retaining moisture. As a result, it dries out more quickly, leaving signs of aging. To give your lips a nourishing boost, choose lipsticks that are both rich and tinted, with a combination of emollient and rejuvenating active ingredients.

A few key ingredients
For fuller lips: highly nourishing argan oil, mango oil and shea butter;
To smooth out wrinkles and fight signs of aging: Vitamin E, rich in anti-oxidants.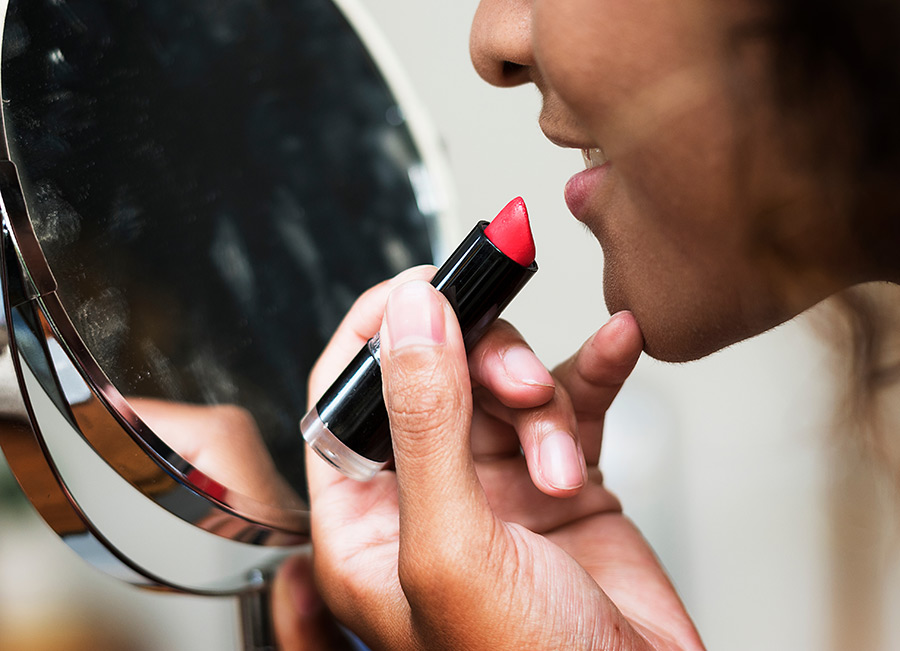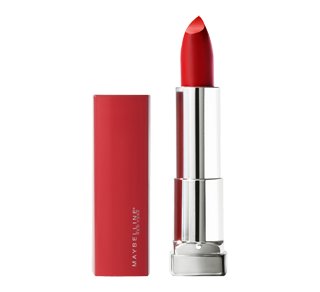 Maybelline New York
Color Sensational Lip Colour, 1 unit
Color Sensational Made For All Lipstick, featuring universal shades from nude to plum in our trusted finishes, is formulated with honey nectar for a smooth and comfortable feel.