With age comes wrinkles. While skin aging is inevitable, you can still slow it down. Here are four skincare products that promise to fight the skin aging process.
Daily exposure to harsh elements means your face ages faster than the rest of your body. That's why it is essential to add an anti-aging cream or serum to your beauty routine. However, it's important to note that these products cannot, on their own, slow the aging process. You also have to maintain a healthy lifestyle, taking care to cleanse your face morning and night, protect your skin from the sun, eat well, get sufficient sleep, etc.
LISE WATIER SUBLIMESSENCE HIGH CONCENTRATION AGE-DEFYING SERUM
The star ingredient of this age-defying serum is Labrador tea extract. What's so special about this plant? It's an ultra-powerful antioxidant that preserves the skin's youthfulness and protects it against the effects of free radicals. This translucent gel makes the skin smoother and helps to maintain its elasticity, restore radiance to the complexion, tighten pores and diminish wrinkles. Formulated with a light texture, it penetrates the skin in just a few seconds thanks to its Active Cell Infusion complex, specially developed to maximize the absorption and effectiveness of its key ingredients.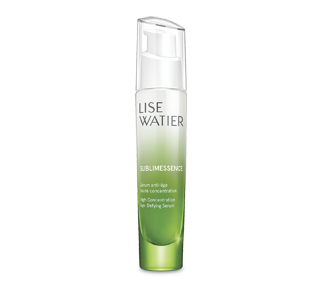 Watier
Sublimessence High Concentration Age-Defying Serum, 28 ml
You. Radiant. Innovation: The highest concentration of exclusive Labrador Tea extract in a fast-results, age-defying serum. The Active Cell infusion Complex boosts the efficacy and absorption of actives to deliver them where skin needs them most.
LANCÔME VISIONNAIRE LR 2412 4% CX ADVANCED SKIN CORRECTOR
This corrector serum targets fine lines and wrinkles. It also smoothens the skin to minimize the appearance of pores and acne scars. Day after day, it repairs and enhances your skin!
CLARINS DOUBLE SERUM HYDRIC + LIPIDIC SYSTEM
This two-phase, non-comedogenic formula boasts 20 plant extracts to hydrate, nourish, protect, oxygenate and regenerate the skin. Everything you need to fully activate the skin's vital functions. This serum is ideal for mature skin, restoring radiance and evening out the complexion while reducing the appearance of wrinkles. What more could you ask for!
VICHY LIFTACTIV RETINOL HA ADVANCED CONCENTRATE
This serum combines two powerful active anti-aging ingredients: pure retinol and LR2412. Together, this duo smoothens and corrects all types of wrinkles, whether on the surface, deep or even vertical. Light and refreshing, the product quickly penetrates the skin and provides long-lasting moisture to give it a serious boost! Say so long to dull, tired-looking skin, and hello to an energetic, delighted expression!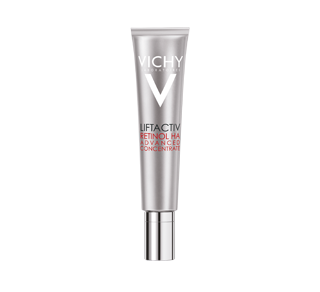 Vichy
LiftActiv Advanced Concentrate, 30 ml
For every woman who wants intense correction on the look of deep vertical wrinkles, and reveal expressions that are younger, more positive in appearance.
Did you know?
In addition to an anti-aging cream or serum, you can cover up signs of aging by applying a makeup primer. It will help cover up your skin's imperfections and minimize the appearance of pores and wrinkles, giving the skin a matte and silky finish. Apply it alone or under your regular foundation.
We suggest:
Lise Watier Base Miracle Pore Minimizing Primer