A change of season means a change in skin care routine. As spring arrives, it is essential to get rid of the toxins that have accumulated under the epidermis during the winter, and to adapt our skin care to the new season. Here are ten useful tips for a peachy complexion this spring.
1. DETOX MASK
Time for a spring cure! Thanks to their rich and absorbent texture, the masks manage to dislodge impurities and pollutants from the pores.
2. CLEANSING
One rule that applies all year long: never go to bed before removing your makeup, no matter how tired you are. In a warmer weather, however, you can use a formula that is less rich than cleansing milk, like an ultra-gentle foam. Fresh sensation guaranteed!
3. EXFOLIATION
Winter's greyness is often synonymous with a dull complexion, caused by an accumulation of dead cells on the surface that prevent the reflection of light. In the spring, cleanse your skin with a good exfoliant every week. After all, the key to beautiful skin is maintenance.
4. HYDRATION
Never skimp on hydration, even in warm weather. As the temperature rises, your pores tend to dilate and the skin may dry out. Every morning, hydrate your skin with a treatment that eliminates dryness instantly and leaves a feeling of freshness.
5. PEELING
Now is the time to pamper your skin just like at a beauty clinic. A peeling uses specific acids to cleanse the skin deep down, removing dead cells and stimulating skin regeneration. This beauty treatment also works on fine lines, pigment spots and dilated pores.
6. SUN PROTECTION
Terrace season is fast approaching. Even though you have suffered from the lack of light during the winter, protect your skin every day, because the UV index is higher in the spring. Each morning, under or over your makeup, apply an ultralight mineral sun lotion designed for the face.
7. DIET
Now is the time to add some colour to your plate. Beta-carotene is known to promote skin colour. It is found notably in carrots, mangoes and broccoli. Of course, junk food and foods high in sugar are to be avoided because they can cause a dull complexion and oily skin.
8. SWEAT
Time to go outside! Lace up your running shoes. Sweating helps to evacuate the toxins which dull the complexion.
9. SLEEP
Dark circles, drawn features... The skin reflects the quality of your nights. If the last change in schedule disrupted your biological clock, try to go to bed earlier. Light sleep? Wear good earplugs and a night mask for peaceful night, and to wake up well-rested and refreshed.
10. WATER
To regain a radiant complexion this spring, hydrate from the inside by drinking 1.5 L of water a day. Well supplied with water, the skin becomes smoother, softer, more elastic and brighter. Lemon water, infusion, mineral water... to each her own!
SUGGESTED PRODUCTS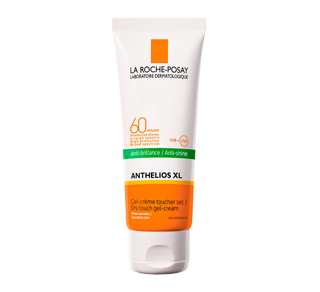 La Roche-Posay
Anthelios Dry Touch Gel-Cream SPF 60, 50 ml
Weightless anti-shine gel-cream for face. Ultra-lightweight, very high protection gel-cream instantly mattifies skin and won't clog pores. Minimizes shine for a fresh, clean-skin feel.