Shaving products are not merely a luxury! In addition to nourishing and lubricating your skin, gels, foams and creams track the progression of the blade so you won't miss any areas (say "goodbye" to discomfort!). Here are some musts for a perfect shave.
MAXIMUM COMFORT SHAVE GEL BY LAB SERIES
What is it? A non-greasy shaving gel that turns into a dense cream once applied. This precision shaving gel not only straightens the hairs to facilitate the passage of the blade, the vitamin E formula moisturizes and softens your skin. And the added bonus of green tea, aloe and caffeine extracts shield against friction, mitigating razor burn.
Who is it for? Fragrance-free and dermatologically tested, this ultra comfortable product is made for skin that's prone to irritation and ingrown hairs.
SHAVING GEL BY BIOTHERM HOMME
What is it? This fresh, soothing gel becomes a creamy foam once applied, preventing irritation and providing a boost of vitality to your skin.
Who is it for? It's specially formulated for sensitive skin, especially skin that becomes red after shaving.
EUCALYPTUS OIL AND MENTHOL SHAVING FOAM BY PRORASO
What is it? Emblematic of Italian shaving, this natural and refreshing solution is free of parabens, silicone, mineral oil and artificial colours. Its menthol-infused foam awakens and tones your skin while nourishing it enough for you to glide the blade several times over the same area. The result is a super-precise shave and perfectly smooth skin.
Who is it for? It's ideal for men with full beards or those with a five-o'clock shadow by the end of the afternoon. They'll gain a few more hours!
PROTECT & CARE MOISTURIZING SHAVING GEL BY NIVEA MEN
What is it? A delicate gel-foam enriched with marine minerals, aloe, vitamins and omega 3s, it prevents your skin from dehydrating and helps it maintain its suppleness after shaving.
Who is it for? For men whose dry skin needs a comfortable shave with an easy glide.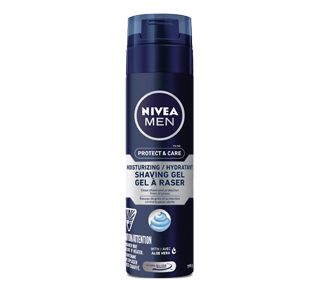 Nivea Men
Protect & Care Moisturizing Shaving Gel, 200 ml
Nivea Men Moisturizing Shaving Gel revitalizes the skin while shaving. Massaged onto a wet face, it quickly turns into an extra creamy foam. It softens facial hair and allows the blade to glide gently but thoroughly over the skin for a close and extra-comfortable shave. Skin is left feeling soft and supple. For normal to dry skin. Formulated with Care Pro Tec and Vitamin Care. Professional care technology specially developed for normal to dry skin. Enriched with Sea Minerals and vitamin F, the formula helps to prevent moisture loss and to keep the skin healthy-looking. Protects against damage caused by dry skin after shaving. Dermatologically tested.
MOISTURIZING SHAVE CREAM BY CW BEGGS AND SONS
What is it? Approved by the Canadian Dermatology Association, this hypoallergenic, alcohol- and oil-free cream combines the action of three ingredients. Provitamin B5 preserves and replenishes the water reserves of your skin, while allantoin prevents redness and tightness, and Tasmanian pepper calms the burning sensation left by the blade.
Who is it for? Sensitive or reactive skins that need a gentle treatment.