If winter is rough on your complexion, try self-tanners. They're your best allies for getting a little colour quickly and safely. Don't worry. The orange tone of the 90s is long gone! The latest products give a natural tan in no time at all. Here are some tips on finding the one that's right for you and how to use it.
How they work
Ingredients like DHA and erythrulose react with the amino acids and keratin present in the skin to reveal brown pigments on the surface. The result is a darker complexion within a few hours. It's temporary, though, and gradually fades if the product isn't reapplied.

DHA and erythrulose are natural active ingredients. DHA is found in wheat, rapeseed and beets, while erythrulose, a vegetable sugar, is found in raspberries.
How to avoid mistakes
Not everyone gets the same result with self-tanners, even those with similar complexions. Factors like skin pH, temperature, stress levels, diet and hormonal cycles can all affect results. Try testing different areas of the body that are easily concealable to get an idea of the colour and finish before you start.
Make sure that the concentration of the active ingredients is appropriate for your complexion. For pale skin, a gradual tanning formula with a concentration of 1 to 3% DHA is ideal. It helps you better control the level of tanning for a more natural look. For dark skin, use a 5% DHA concentration. Avoid using anything higher in winter. The most concentrated products (up to 8%) are great for maintaining an existing tan.
One of the golden rules to respect if you want a result that meets your expectations is to exfoliate first. Free of dead skin, you'll get a more uniform and pronounced effect. For even better results, use a daily moisturizer after application. And don't forget to wash your hands, especially your palms!
Which self-tanner should you choose?
Do you want a quick tan? Increase the hydration of your skin? Liven up your complexion? It's important to choose the right product.
For rushed mornings
If you don't have time to apply a self-tanner because of all the care it requires, choose the quick solution: a spray mist. It's easy to apply and covers every angle in no time. Holding the bottle about 20cm from your body, spray the self-tanner on clean, dry skin, making sure to cover the entire area, and you're done!
Another option is a lotion you can apply in the shower after washing. Apply the lotion to wet skin in circular movements, let it set for 3 minutes, then rinse with hot water. Tanning will develop with successive washings.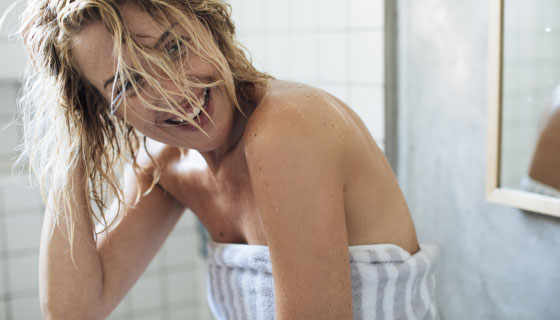 For glowing legs
Well-hydrated skin means a long-lasting and radiant tan. That's why many self-tanners, especially those with a creamy or milky texture, contain a moisturizing factor. Use them to get smooth, silky legs or to give dry areas like the neck and décolleté a boost.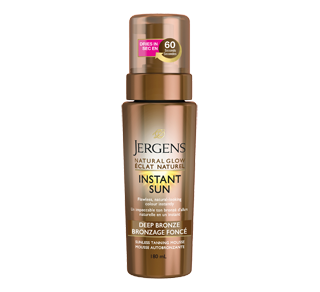 Jergens
Natural Glow Instant Sun Sunless Tanning Mousse Deep Bronze, 180 ml
Foolproof, natural-looking colour instantly! Jergens Natural Glow Instant Sun Sunless Tanning Mousse uniquely works with your skin tone to mimic results from the natural sun.
For dull complexions
Some self-tanners are specially designed for the delicate skin around your face. Apply them before your day or night cream, being sure to continue onto your neck and ears, and around your eyes to avoid the 'goggles' effect. Avoid getting tanner on your eyelashes and eyebrows!
Be careful!
It can't be said enough that a self-tanner doesn't protect you from UV rays. Before sun exposure, use a product with an SPF of at least 30.