Every new season deserves a new hair colour, right! So, whether you want to refresh your current colour at home or make a total change, we've got the latest trends to help inspire you.
Blond
When it comes to blond hair, the answer is clear: it's time to go light and lively, like...
Icy-blond, an ultra-light tone with cool highlights, very similar to platinum blond.
Or try strawberry blond, which is warmer and not quite as pale.
Both shades are achieved the same way, by lightening your hair as needed with a bleaching agent, then by applying one or several finishing coats or toners to achieve exactly the shade you want.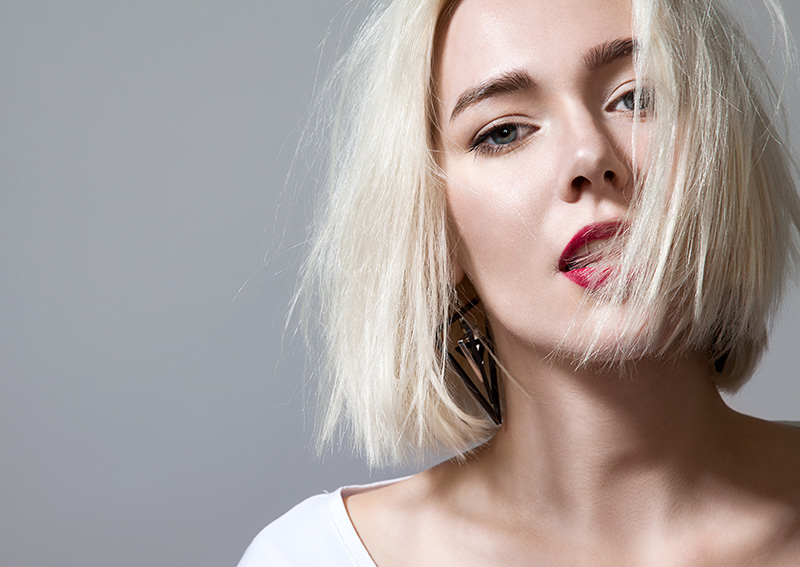 Remember
Bleaching agents can dry out your hair and irritate sensitive scalps. So, be sure you do a skin-test before you start bleaching. And remember to care for your hair with nourishing products while maintaining your new colour.
Because blond tones tend to yellow with time, make sure you apply a purple or bluish shampoo once or twice a week to neutralize your highlights.
Browns
Blonds are getting lighter, and browns are getting darker. For proof, check out these top trends:
Midnight brown, which is all but black.
Toasted caramel, which is brighter, but with dark auburn highlights.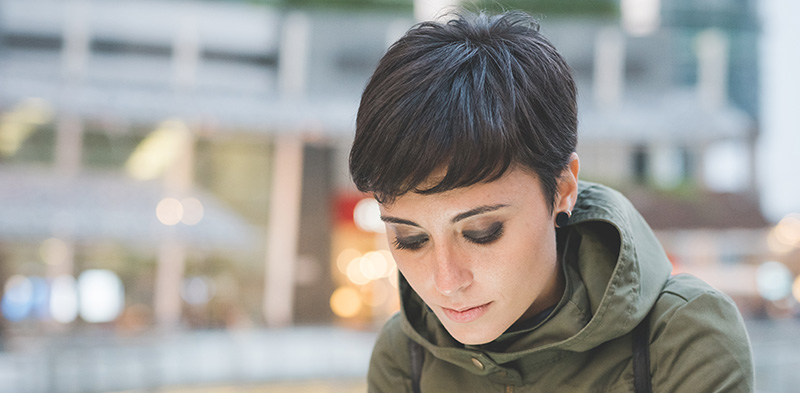 Remember
Darker colours can make your skin look pale. So, if you have a fair complexion, choose richer, warmer browns that add radiance to your natural skin tone. Solfine's Viva Italia collection offers a few great shades.
Highlights and accents
Looking for just a little change to your hair colour? Consider these options...
Warm ombrés are in, particularly for darker hair. So, why not try chocolate tones at your roots, and a gradient that tends towards ash brown or deep red for the ends. Another big trend is the shadowy look, with a less pronounced contrast between your roots and tips.
Another style that's still very trendy is the Money Piece Highlight, which frames your face artfully. It's a discreet, easy to manage and an inexpensive way to try some more bright, flashy flamboyant colours.
The Mocha Melt is a style that blends your natural colour with highlights that are two or three shades lighter. It's a great way to add subtle depth to your hair.
Our suggestions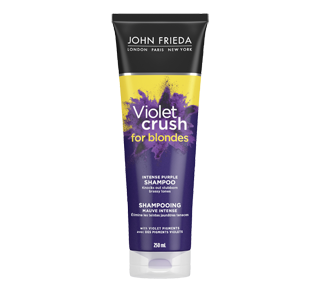 John Frieda
Violet Crush Intense Purple Shampoo, 250 ml
Knock out unwanted brassiness in just 1 wash with John Frieda Violet Crush intense purple shampoo. This ultra violet pigmented intensive purple shampoo instantly tones for cooler, brighter blonde between salon visits. Great for natural, highlighted, or colour-treated blonde hair. Formulated with Crushed Violet pigments which neutralize unwanted yellow, brassy tones. Peroxide-free and ammonia-free - it gives your blonde hair everything it demands and nothing it doesn't. For best results, use it with Violet Crush purple conditioner for blondes. For daily maintenace of blonde hair, try John Frieda Violet Crush purple shampoo.