Treatment fragrances are scented waters that provide more than just a pleasant aroma. They moisturize, stimulate, soothe, and offer the benefits of aromatherapy.
Stimulating
Often containing notes of citrus, herbs, tea or spices, these stimulating sprays awaken your senses. You will feel a burst of energy the moment you spray.
Our favourites:
Eau d'Énergie by Biotherm is loaded with natural fruit extracts, vitamin E and moisturizers, for soft skin and a sensation of freshness
Eau Dynamisante by Clarins hydrates, firms and tones skin with its blend of essential oils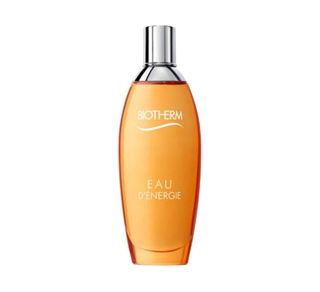 Biotherm
Eau d'Énergie Eau de toilette, 100 ml
Energizing Body Spray A delicacy for the skin, this perfume does more than just enchant the senses! A perfumed mist that gently cares the skin with natural fruit essences and the anti-oxidant power of Vitamin E and moisturizing agents. Skin is left comforted, supple, velvety-smooth and radiant. Eau d'Energie is a fragrance for every day, every occasion, perfect as a shot of vitality for a sense of well-being.
Soothing
The gentle scents of calming sprays filled with plant and flower extracts make it easy to relax.
Our favourites:
Eau Ressourçante by Clarins wraps your skin in a light veil of moisture.
Sparkling
Some sparkling waters add a touch of freshness and excite the senses, while others are more sensual.
Nos choix :
Eau de Lait Corporel Body Milk by Biotherm, with a blend of freesia and cedar for a refreshing sensory experience
Eau des Jardins by Clarins, which moisturizes and softens skin with its beech, sorbier and blackcurrant bud extracts
Enchanting
These unique fragrances are specially designed to take you around the world.
Our favourite:
Eau Fraîche Fleur de Vigne by Caudalie brings us to the vineyard and pays tribute to the ephemeral grape flower that blooms for a few short days in June