Five easy steps, five great products, a few great Pro tips and suggestions for every type of budget. We've got all you need for a fast, effective makeup routine. Just follow the guide!
STEP 1 - The Foundation
For a truly natural look, try a fluid, easy-to-apply formula, but remember to choose a shade that's as close as possible to your natural skin tone.
Application tips
Whether you use a brush or a sponge, the application is the same: pour a little foundation onto the back of your hand, then apply it evenly over your entire face, starting in the centre and moving outwards. Remember to blend the foundation to the back and sides of your neck to avoid creating cut-off lines.
Our suggestions
Low price: Kind & Free Complexion Perfector from Rimmel London. Its moisturizing formula gives your skin a healthy, even glow.
Medium price: True Match Tinted Serum with hyaluronic acid from L'Oréal Paris. This is the ideal product to instantly brighten, even out and moisturize your skin.
A little luxury: Clarins Everlasting Foundation. This waterproof formula covers and mattifies, offering impeccable hold for 24 hours.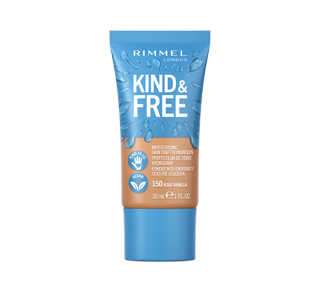 Rimmel London
Kind & Free Skin Tint, 30 ml
The Kind & Free™ Moisturizing Skin Tint is made with 100% vegan ingredients – stuff that's simply good for you & good for the planet. Our Kind & Free Moisturizing Skin Tint gives you an instant healthy glow. The tint is infused with an antioxidant vitamin complex, and it evens skin-tone for a blurring effect!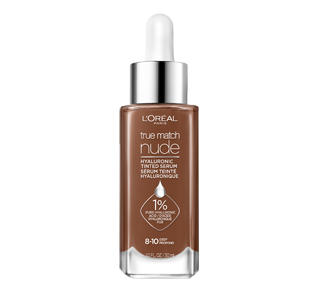 L'Oréal Paris
True Match Nude Hyaluronic Tinted Serum, 30 ml
True Match hyaluronic acid tinted serum - our 1st tinted serum with 1% hyaluronic acidInstantly brightens, evens and hydrates skin all in one. 1% hyaluronic aacid instantly hydrates. Skin looks plumper in 3 weeks. Plumps up like a serum, covers like a foundation with luminous mineral pigments. 9 radiant shades blend to match a variety of skintones.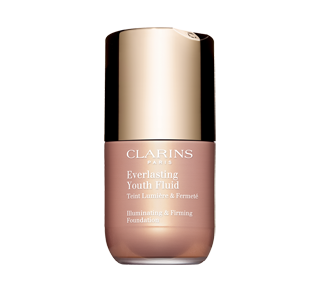 Clarins
Everlasting Youth Fluid Illuminating & Firming Foundation, 30 ml
The first foundation for all women, that helps to optimize the skin's light capital.
STEP 2 - The Concealer
Just as you would with a foundation, choose the shade that blends in best with your natural skin tone, one that neutralizes dark circles effectively. If your circles are bluish, choose a peachy colour to conceal them well. If the circles are more mauve, a golden shade will work best.
Application tips
Place a couple of small drops under each eye, then apply with a brush or finger using a V-shape motion, moving from the inner corners of your eyes, downwards to the top of your cheekbones, and then upwards towards the outside. Once the formula has been well blended, you can set it with a very thin layer of translucent mineral powder.
Our suggestions
Low price: Covergirl Clean Fresh moisturizing concealer. Fortified with coconut milk and aloe extracts to offer you light, natural coverage.
Medium price: Instant Age Rewind eraser treatment from Maybelline New York. This popular product instantly removes the appearance of dark circles and fine lines.
A little luxury: Lancôme Teint Idole Ultra Wear Camouflage Concealer. This product goes on light, is highly resistant and offers full coverage, precision application and a subtle glow.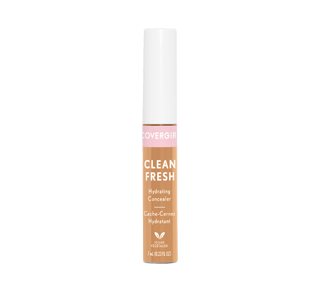 CoverGirl
Clean Fresh Hydrating Concealer, 7 ml
Covergirl Clean Fresh hydrating concealer is infused with coconut milk and aloe extracts for buildable coverage and glowing skin. The vegan makeup formula is made without phthalates, mineral oil, formaldehyde, talc, parabens, or sulfates. This liquid concealer does not cake, crack, or crease. Pro-tip: pair with Clean Fresh skin milk for natural, healthy-looking skin.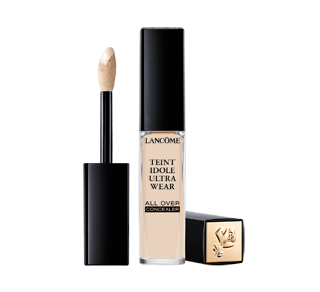 Lancôme
Teint Idole Ultra Wear All Over Concealer, 13.5 ml
Multi-tasking concealer up to 24-hour comfort & wear
STEP 3 - The Mascara
If you have long, thin lashes, you'll want a volumizing mascara with a creamy texture that offers body and fullness. If your lashes are short and full, try choosing a lengthening, liquid formula that separates your lashes to create added definition.
Application tips
The best way to coat your lashes and prevent clumping is to apply the mascara using tiny zig-zag movements with your brush. If you want to accentuate the curves of your lashes, apply a little extra pressure on the brush while closing your eyelids.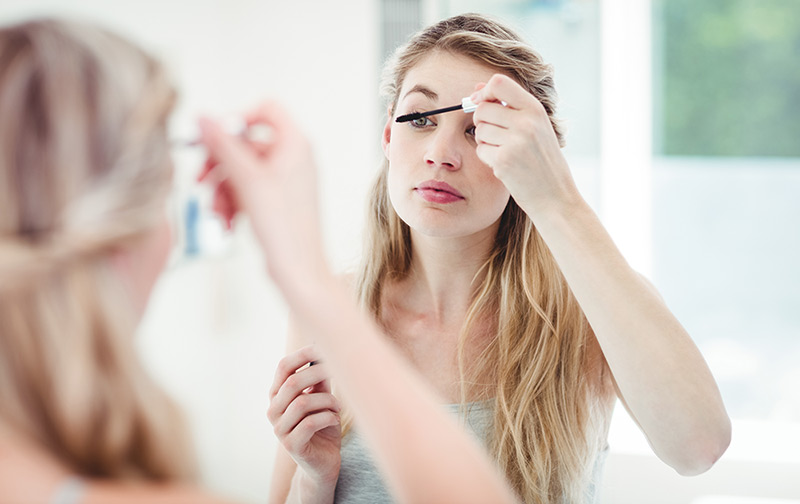 Our suggestions
Low price: Rimmel London's Wonder'Extension Mascara. Its rich, elastic texture boosts lash length, density and definition.
Average price: Vamp! Sexy Lashes Mascara by Pupa Milano.This product gives your lashes maximum curve and volume!
Higher price: Lancôme Hypnôse Mascara. The absolute classic! One coat leaves your lashes 8X thicker, perfectly separated, longer and naturally curled. This one does it all!
STEP 4 - The Blush
Whether you prefer neutrals or brighter colours, light shades, like soft pink, peach, coral, etc., are always a safe bet when you want to add radiance to your complexion.
Application tips
First, wipe your brush on the compact to grab a bit of colour. If you use powder, be sure to tap the brush on the back of your hand to remove any excess. Apply a small amount of colour to the tips of your cheekbones, then stretch the colour out horizontally or upwards, depending on the shape of your face.
Our suggestions
Low price: Perfect Blush talc-free blush from Annabelle. This affordable, versatile blush offers a soft texture and natural finish. What more could you ask for!
Medium price: Solid Blush from Oceanly. Featuring 99.8% natural-origin ingredients and a creamy texture to give your cheeks a soft, radiant complexion.
A little luxury: Havana Blush trio from Lise Watier. This non-drying formula comes in three colours that are easy to use, giving you a natural, healthy complexion with an added sculpting effect.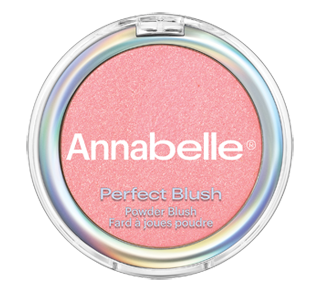 Annabelle
Perfect Blush Talc-Free Powder Blush, 3 g
Whether you want soft glowing cheeks or cheekbones with added depth, this powder blush delivers. Its incredibly soft texture makes it easy to apply and perfectly blendable. Our wide range of shades provides the perfect match for every skin tone.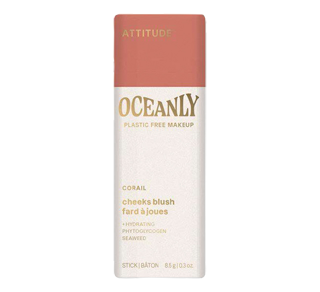 Attitude - Oceanly
Cheeks Blush, 8.5 g
Oceanly cheeks Blush - Corail has a creamy texture and gives cheeks a soft, radiant and natural glow. Formulated with 99.8% naturally sourced ingredients, its innovative formula contains phytoglycogen for hydrated skin and an irresistibly soft application.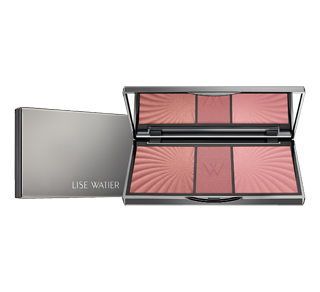 Watier
Havana Trio Blush, 17.5 g
The perfect blush trio for a healthy glow, boosting natural radiance and providing a sculpting effect.
STEP 5 - The Lipstick
Lip gloss, matte cream, glossy red sticks... Choose your favourite texture, but make sure it's a long-lasting formula, especially if you're going to wear a face mask for extended periods of time.
Application tips
Worried about lipstick that bleeds or smears? Try tracing the outline of your mouth with a pencil before applying your lipstick. No matter what type of formula you use or the applicator that comes with it, you can always use a brush to touch up those areas that need more precision, like the corners of your mouth.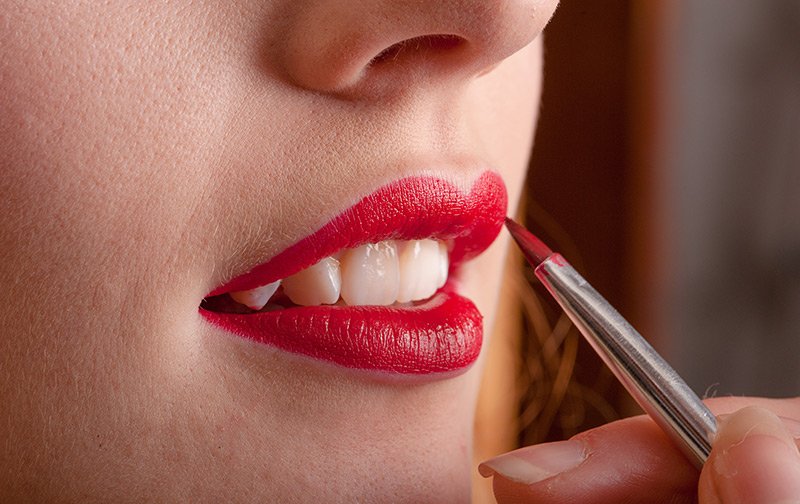 To create smooth, full lips...
Coat them with a nourishing formula before you apply your makeup. That way, it will have time to work its magic before you apply your lipstick. And remember to care for your lips daily, by applying a balm every night before going to bed. You'll also want to exfoliate and use a moisturizing mask at least once a week.
Our suggestions
Low price: Personnelle Cosmetics lip oil. Its yummy formula leaves your lips super moisturized, glossy and slightly tinted.
Medium price: Oh Whale! Tinted Lip Balm from Florence by Mills. This non-sticky, moisturizing and lighted tinted lip balm is enriched with shea butter, jojoba oil and avocado oil.
A little luxury: I'm Pupa lipstick from Pupa Milano. Pure colour, total shine, creamy texture... It's got everything you want!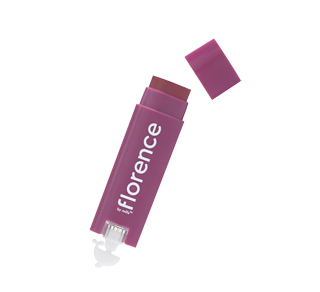 Florence by Mills
Oh Whale! Tinted Lip Balm, 4.5 g
The florence by mills Oh Whale! Tinted Lip Balm is a sheer tinted lip balm that wraps lips in a layer of non-sticky moisture with lip-hugging oils like Jojoba Oil and Avocado Oil while Shea Butter seals everything in to keep our lips happy for hours. Just spin the whale to keep on applying and smiling!? ?