In the summer, you want your makeup to last as long as possible. For your look to hold up in the heat and humidity, you need to get these five waterproof products that will help you be at your best all day.
A radiant complexion all day
Rimmel London Lasting Finish 24H Foundation with Comfort Serum
A foundation that blends in with your skin and lasts all day… even in the hot summer days? It's now possible with this liquid formula that provides excellent coverage and better yet, remains comfortable. And it will keep its hold until you're ready to turn in for the night. Proof that your complexion is in good hands!
The cat eye that lasts
Annabelle waterproof liquid eyeliner (Blue Spark)
If you love liquid liners, you should definitely give this one a try this summer. Use it for its ultra-pigmented formula and easy application but also because it's a waterproof product that will last all day. A great ally to have on hand once the days get humid!
Lips that will resist anything
Lise Watier Magnifix Lips Smoothing Long-Lasting Primer
This primer will rejuvenate your lips, increase their volume and make your favourite lipstick last even longer. Such a simple way to make your lipstick keep its shade all day. We love it!
Setting spray
NYX Professional Make-Up Setting Spray, Dewy
With this product, you don't have to worry about harsh weather. It protects your makeup against heat, sweat and even rain. A spritz of this NYX Professional Make-Up setting spray is all you need before you step out of your house. A light product that won't weigh down the makeup you've applied.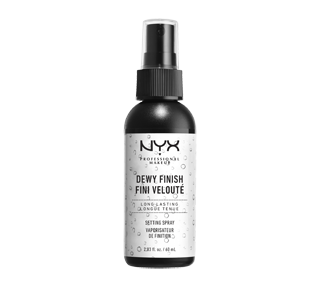 NYX Professional Makeup
Setting Spray, Long lasting, Dewy Finish, 60 ml
DEWY FINISH SETTING SPRAY: For a dewy finish makeup look that stays put, use our lightweight setting spray to reduce shine and leave a fresh, just-applied look all day Works with all makeup including foundation, eyeshadow, and powder
Sealed eyelashes and eyebrows
Clarins Double Fix' Mascara Waterproofing Seal Lashes Eyebrows
Thanks to Clarins, you can now easily and quickly make your favourite mascara waterproof! Apply this gel on after the mascara of your choice to create a seal on your lashes that will protect it from water and sweat. You can also use it on its own to strengthen your lashes and eyebrows and tame unruly hair.