A twist on the 90s-inspired classic updo, the half bun is a medium length hairstyle, but can also work with shorter hair. Here's how to make one in five easy steps!
After washing and drying your hair, make sure you untangle it well. Use a product that will make combing it easier while moisturizing it at the same time.
We suggest: Fructis Triple Nutrition Detangling Double Care Treatment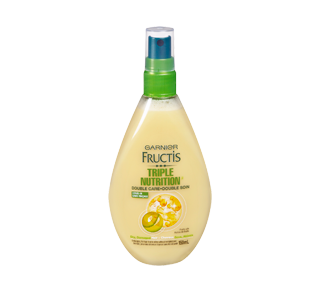 Garnier
Fructis Triple Nutrition Double Care, 150 ml
Nourishing Milk that nourishes and detangles hair without weighing it down. Shine Serum enriched with fruits oils that penetrate each layer of hair. Repairs and softens hair.
The half-bun
To successfully pull off a half-bun, your hair should be perfectly messy, as if you just spent the day swimming in the sea and sun bathing. Spray a touch of sea salt texturizing spray on your tresses, then scrunch up your hair with your hands. This will give your hair texture.
We suggest: John Frieda Beach Blonde Sea Salt Spray.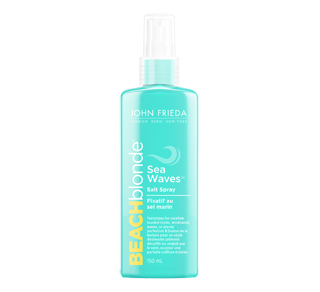 John Frieda
Beach Blonde Sea Waves Salt Spray, 150 ml
Create a carefree, ocean-fresh look with full tousled texture, windswept waves, or piecey perfection and a low-sheen matte finish.
Loose waves
Create loose waves. If your hair is not naturally straight, straighten it before creating waves. Next, using a curling iron that is at least 1.5 inches wide, take a lock of hair and curl it one and a half times around the iron, making sure to not start at the root and to leave at least two inches of straight hair at the tip. Wait about ten seconds, then do another one, and another until your hair is slightly wavy.
Fixing your waves
To make sure your waves stay put throughout the day, cover them entirely with hair spray. Then, to add texture and volume, use a dry shampoo. Shake off any excess product using your hands. This will also raise your roots.
We suggest: L'Oreal Paris Studio Line Hot & Go Quick Dry Primer Spray, Batiste Tropical Fragrance Dry Shampoo.
Part your hair
Isolate the hair on top of your head by parting it on each side of your face, at the temples. This way, some hair will fall over your ears, and the bun will be the perfect size.
Create the half-bun
Create the half-bun with the hair that has been portioned off. Make it so that it is located on the top of your head and toward the back. Tie it with a transparent elastic or one that is the same colour as your hair, and keep it in place using bobby pins. For a little bit more volume, pull a few locks around the bun, especially in the front. Voilà!
We suggest: Elastics and bobby pins.