More people than ever are striving to make natural choices for their beauty and hygiene products. So, it's only natural that we're seeing so many new organic, vegan and non-toxic products on our shelves. Want to adopt a greener beauty routine for yourself? Here are few excellent natural products to help you choose!
Facial lotion
Facial Toner Alcohol-Free Witch Hazel Aloe Vera Formula, Lavendar: This gentle, alcohol-free toner is made with organic lavender water to cleanse, tone and moisturize your skin. It also features a blend of organic aloe and witch hazel (two plants offering moisturizing, antioxidant and regenerative properties) to help tighten pores, soothe dry skin and enhance its natural radiance. Best of all, Thayers products are 100% animal cruelty-free and are sold in fully recyclable, biodegradable packaging. Now that's beautiful!
Organic
Alcohol-free
Natural ingredients
Cruelty-free
Recyclable, biodegradable packaging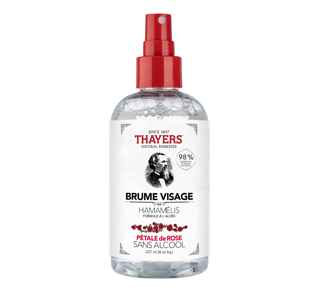 Thayers
Facial Mist Alcohol-Free Witch Hazel Aloe Vera Formula, 237 ml, Rose Petal
Flower power. Make your skin bloom with Thayers rose petal facial mist. This pH balanced, gentle toner is derived from a time-honored formula, developed by Thayers to cleanse, tone, and moisturize skin. Formulated with rose water and our unique, proprietary blend of aloe vera and non-distilled witch hazel that is grown exclusively for Thayers on a family farm. By avoiding distillation of our witch hazel, we're able to preserve the naturally occurring, beneficial tannins which are known to their antioxidant benefits. Our toner formula imparts a natural glow to your skin. Thayers elixirs have been a fixture in medicine cabinets for generations – once you use them you'll know why.
Shower Gel
Coconut Vanilla Body Wash from Native: Introducing this vegan product made with pure, powerful ingredients like coconut oil, salt and citric acid, to leave your skin feeling soft and super moisturized. Plus, it creates a rich, creamy lather like the very best bubble baths, for pure enjoyment! Free of sulfates, phthalates, dyes, residue and animal cruelty, this Native cleanser leaves your skin smelling yummy with the deliciously fragrant vanilla and coconut.
Organic
Vegan
Natural ingredients
Cruelty-free
Recyclable packaging
DEODORANTS
Hello deodorants: It's time you said hello to Hello eco-friendly deodorants! Clinically proven to offer up to 24 hours of odour protection, Hello deodorants hydrate your skin naturally with vegan ingredients like coconut oil, rice wax, shea butter, activated charcoal and cocoa butter. Plus, Hello deodorants are never animal-tested and they come in 100% recycled, recyclable packaging.
Vegan
Natural ingredients
Cruelty-free
Recycled, recyclable packaging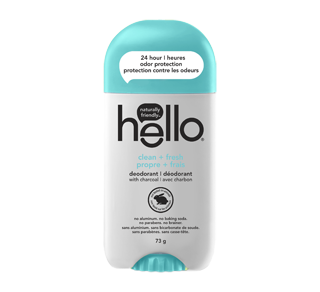 Hello
Deodorant with Charcoal, 73 g, Clean + Fresh
Goodbye stinky, hello naturally friendly™ deodorant. featuring a natural fragrance for any and everybody in 100% recycled packaging, this epic deo rocks awesome ingredients like tea tree oil and shea butter and provides all day friendliness to fight the stink. anything less would be the pits.
Dove Care by Plants deodorants: Guaranteed aluminum- and paraben-free, this complete line of vegan, moisturizing deodorants is plant based, made from 99% naturally derived ingredients. Plus, they offer 24-hour, gentle odour protection with an energizing lemongrass fragrance. Dermatologist-approved, these natural deodorants are sold in 96% recycled packaging and they're certified animal cruelty-free.
Vegan
Natural ingredients
Cruelty-free
Recycled packaging
Shampoo
Whole Blends Honey Treasures Sulfate-Free Shampoo, 355 ml: Honey isn't just a sweet treat, it's also a super effective ingredient in hair-care products. And Garnier's Whole Blends shampoo is a perfect example! Free of sulfates, parabens, mineral oils and gluten, this restorative shampoo featuring beeswax offers up to 72 hours of deep conditioning with every shampoo. Plus, the bottle is completely recyclable when you're finished. Now that's sweet!
Natural ingredients
Cruelty-free
Recyclable packaging
Toothpaste
Toothpaste Sensitive, 120 g, Spearmint: This cruelty-free, vegan toothpaste is made with plant- and mineral-based ingredients, like antioxidant green tea leaves to help you maintain proper oral health; and papaya leaves to help reduce plaque during brushing. It also features fluoride to help prevent cavities, hydrated silica to for natural whitening, and potassium nitrate to help prevent sensitivity. And here's something refreshing: Attitude natural toothpaste is made, so you feel good about the choices you make.
Vegan
Natural ingredients
Cruelty-free
Local company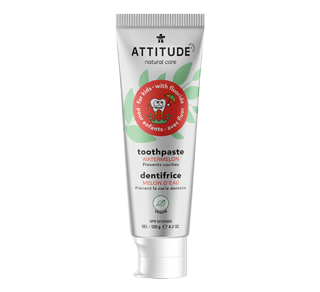 Attitude
Toothpaste for Kids, 120 g, Watermelon
Make dental hygiene fun for your little ones with Attitude toothpaste with fluoride for kids! Teach them how to care for their teeth and gums with this delicious watermelon toothpaste. Because it contains fluoride, it protects their precious teeth from cavities and acid erosion. Our natural and vegan toothpaste also rebuilds weak spots on the tooth and helps to remineralize tooth enamel.