Maintaining a healthy complexion, preserving the suppleness and elasticity of your skin, slowing the signs of aging, protecting your skin from damage caused by pollution and weather… the answer to all these problems? Proper moisturizing. OK, sure. But how do you ensure that every part of your body gets the hydration it needs? Read on!
Face
To help maximize the hydration of your delicate facial skin, which bears the brunt of daily pollution, UV rays and changing weather...
Wash your face day and night with a gentle product that removes impurities without drying out your skin.
Daily: use a cream designed to retain moisture and provide added protection against aggression; and nightly, before bed: use a night cream that will help regenerate your skin cells while you sleep.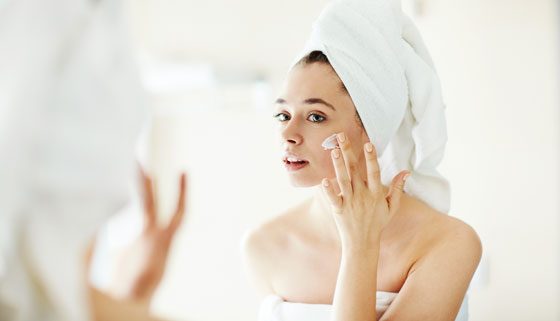 Choose a product that specifically targets the delicate skin around your eyes and your lips. Because it's less rich than a facial cream, it will help reduce puffiness by promoting drainage and fighting lines and wrinkles.
At critical moments like when the seasons change or in the coldest parts of winter, apply a serum after you wash your face. The active ingredients will help boost the effects of your creams.
Use a scrub or peel at least once a week. By freeing your pores of dead skin cells and impurities, you help your skin breathe more easily. Plus, it'll help your creams get absorbed more easily for maximum hydration.
Give your routine a boost with a weekly mask! Available in tube or sheet form, they're a great way to supplement your moisturizing routines.
Psst: pay special attention to your neck and décolleté! Because the skin in these areas produces less natural oil than the skin on your face or other areas of your body, it becomes dryer more easily and shows signs of aging sooner. Give it little boost with a weekly scrub and make sure you cover it every day with a moisturizer created specially for these areas.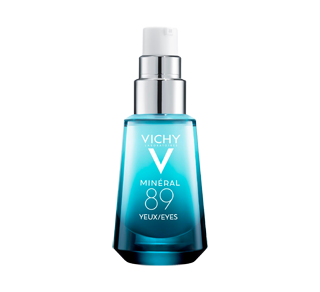 Vichy
Mineral 89 Eye Care Hydrating with Hyaluronic Acid, 15 ml
Formulated with 89% Vichy Mineralizing Thermal Water, natural origin hyaluronic acid and pure caffeine, Mineral 89 Eyes repairs the skin barrier function while brightening dark circles and strengthening eye skin contour damaged by external aggressors.
BODY
Thicker and more resistant than the skin on your face, your body doesn't need the same degree of skin care to retain its moisture.
When you're in the shower, use a soap-free cleanser that's less abrasive than the usual products, ideally one that's rich in moisturizers.
Just like with your face, use a good scrub once a week. Apply your scrub with the ends of your fingers, rubbing it in a circular motion and paying particular attention to the rough areas like your elbows, knees, heels, etc.
Right after you've showered and dried off, apply a generous layer of moisturizing cream or dry oil. Applying your moisturize right after showering helps boost the absorption of your products because your skin is already moist.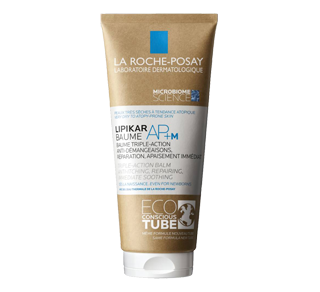 La Roche-Posay
Lipikar Baume AP+M Triple Action Balm, 200 ml
Lipikar Balm AP+M is a soothing*, lipid-replenishing body balm for newborns, children and adults with dry, itchy and eczema-prone skin. Clinically proven to reduce itching, provide immediate soothing* and space out the frequency of flare-ups** of eczema and severe dryness. The new AP+M triple-action formula has a reinforced anti-scratching, anti-relapse efficacy** and helps to rebalance the skin's microbiome. It replenishes skin's essential lipids to strengthen its moisture barrier and provides long-lasting 48-hour hydration. It can be used on the face, hands and body and is suitable for adults, children and babies as young as 2 weeks, for use all year round. Our new eco-conscious tube made from cardboard packaging uses less plastic*** to be more respectful of the planet. At La Roche-Posay, we are committed towards our people and our planet. As we innovate our products, we ensure to improve our environmental & social impact on our planet and people. One of the ways that we do this is by committing to reduce the use of plastic through our eco-friendlier packaging designs. * In cases of dry skin. ** With continuous use, 1 application/day, severe dryness peaks are spaced out. *** Compared to the previous 200ml tube.
HANDS
Soap, cleaning products, handling paper, wind, cold… they all take their toll, drying out your hands. To help with the redness, chapping and cracking, keep an ultra-rich moisturizer handy, one that features ingredients like lanolin, argan oil or shea butter. Apply it several times a day and once again just before bed. You might also want to sleep with light gloves on to help your hands absorb the maximum amount of moisture during the night.
FEET
They carry the weight of your body, you cover them in socks or nylons, lock them up in shoes for hours on end… let's face it: your feet have it rough! And yet, if there's one area of your body that gets little care, it's your feet. So, to help prevent corns, callouses and cracking, get in the habit of sanding the roughest areas of your feet every night, then coat them with a special foot moisturizer. You might also want to give them a relaxing bath once a week, leaving them to soak in warm water with sea salt or glycerine for at least 15 minutes. Once softened, the skin on will be much easier to treat.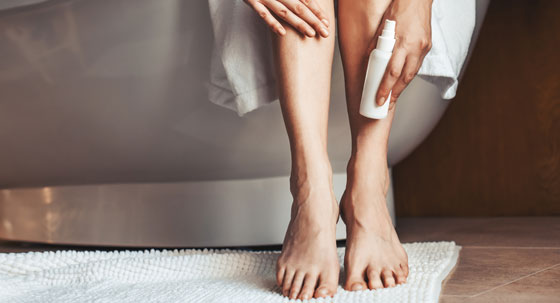 HAIR
The outer layer of your hair, known as the cuticle, is made up of tiny scales composed primarily of keratin, which helps absorb and maintain moisture. The keratin scales are fragile so they're easily damaged by shampoos, coloring, heating irons, blow dryers, etc. As a result, they can flake off and leave your hair exposed to dehydration, lifelessness and splitting. To avoid that happening, apply a nourishing formula to the ends of your hair at least once a week after shampooing. The active emollients in the oil with help nourish your hair, keeping the cuticle healthy and strong.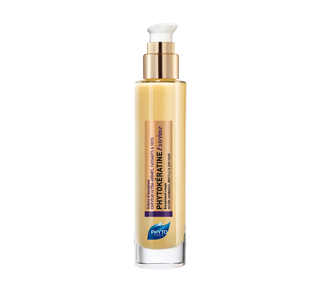 Phyto Paris
Phytokeratine Extreme Exceptional Cream, 100 ml
This nourishing, ultra-fluid cream instantly reconstructs damaged hair and reveals its beauty. It enhances the hair's substance, tames it and illuminates hair. Leave-in.