The big day is coming? Here is everything you need to look good!
PAMPER YOUR SKIN
Take advantage of the last weeks before the wedding to offer a regenerative cure to your skin. Clean your face morning and night with a product specifically designed for men, and use a scrub once or twice a week: by removing dead skin cells and clearing your pores, you minimize the risk of skin rashes on your wedding day. Remember to use a moisturizer after each treatment, and choose non-irritating products—especially if you have sensitive skin.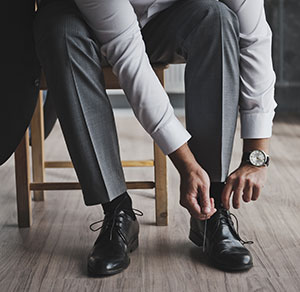 THE PERFECT SHAVE
For a close shave, when the time comes, choose a moisturizing gel that allows the blade to slide easily: you will minimize the risk of cuts and irritation. Then pat an after-shave lotion on the shaved areas: your skin will be soothed... and will feel divine! If you prefer scruff, shave the day before the wedding and make the necessary touch-ups the morning of the wedding. For an ideal finish, run the trimmer against the grain, from the neck to the cheeks. Then align a straight comb between the tip of the ear and the corners of the lips, and shave the hairs that lie above.
Do you have a long beard? Detangle it well, then use the trimmer and scissors to give it a clean shape. If necessary, wash it first with a mild cleanser, and smooth it out with a few drops of oil. Remember to shave your cheeks, neck and around your mouth.
YOUR SIGNATURE FRAGRANCE
As a finishing touch, nothing beats a few sprays of your favourite perfume: spray a little behind your ears and knees, as well as inside your elbows and wrists.
Looking for a fragrance to wear? Visit the store: your Jean Coutu cosmetician will help you determine what is best for your personality, between notes of aromatic herbs, the depth of woody fragrances, the tangy inflections of citrus fruits, and the oriental aromas of amber and spices. If you are interested in a perfume, you can even leave with a sample, and see how it develops on you before making your decision. Guaranteed success!