Jean-Paul Gaultier, Tom Ford and Marc Jacobs have all made announcements about it and beauty trends in South Korea have confirmed it: makeup is also for men…all men! While "guyliner" and "manscara" remain fairly uncommon, there are a number of more accessible products that help hide imperfections while keeping you looking your best from that first meeting to the last business drink. Ready to try something new? Here are our top tips and tricks.
Clean-up time
The key to a natural effect is clean, well-hydrated skin. It gives makeup better, more discreet hold and ensures there won't be any streaking. For the best results, start by gently wiping your face with a cotton ball that's been dipped in a tonic lotion or micellar water (ideal for reducing sheen), then dab on a light cream.
Refresh your skin tone
Need a vibrant boost? Choose a product that's ultra light and matte (never use a pearl finish), like a BB cream, which illuminates and unifies your skin tone while nourishing deeply; or a very liquid foundation that can be blended with a daily moisturizer. Use these products sparingly: blend them together on the back of your hand with a brush then apply stroke by stroke starting from the middle of your cheeks outward, doing your nose last. A little touch of bronzing powder goes a long way to rejuvenating tired-looking skin. Shake your brush out well, then start along the root line of your hair, down over your cheekbones, then back and down along your jaw line as though you were drawing a large 3.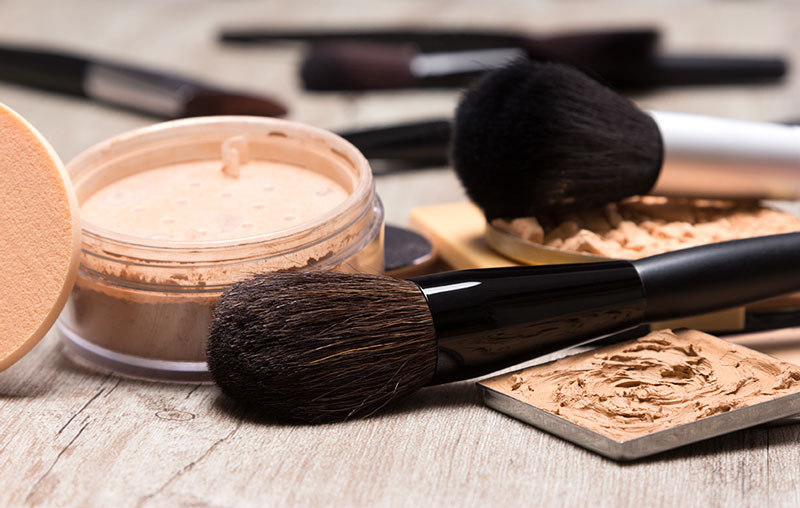 Careful! Make sure the foundation doesn't touch your beard or moustache: it could leave marks that are hard to remove. Make the job easier for yourself: start with a good trim and remove any stray hairs.
Wake up your eyes!
To reduce the signs of a short night, use a concealer with a tint that matches your natural skin tone as closely as possible. If in doubt, use a colour that's slightly lighter, which will enhance the luminosity. Blend the concealer into the skin with a damp sponge: the pigments will be absorbed more easily, so there won't be any lines.
Colour correcting
Pimples, scars, ingrown hairs, razor burn, redness… everyone has a bad skin day from time to time. The solution? Baking!
Cover the imperfection with a little foundation, concealer or corrector. Press the product onto the skin rather than wipe it on to avoid accentuating lines and wrinkles.
Using a wet sponge, roughly fix the product to your skin by applying a generous layer of powder over the covered areas.
Let the products sit for a few minutes. The natural heat of your body will "bake" the pigments, helping them absorb more deeply into your skin. As a result, you'll get longer-lasting coverage of those pesky imperfections.
Once you've finished, simply remove excess product with a brush and apply a small amount of powder. Your skin will glow like new!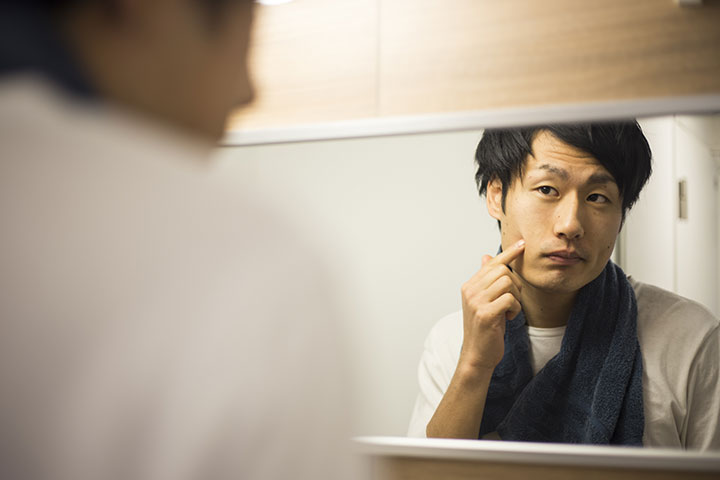 Pro tip: To get rid of persistent redness, cover it with a drop of green correcting fluid before you start the baking process.
Your anti-imperfection toolbox
Confused by all the makeup supplies? Remember these three essentials.
Foundation brush
You'll need one to apply all tinted fluid products, both liquid and cream. Choose a brush that's wide and round, made of natural fibres: it won't absorb the product and will help ensure lighter, more unified application.
Powder brush
Soft and supple, this brush will help ensure your powders and bronzers are applied lightly, without buildup. Big or small, straight or flared… choose the one that best suits your needs.
Precision sponge
The pointed end of this sponge is ideal for precision correcting while the rounded end is great for blending. The precision sponge is dense and easy to use wet or dry. It's your best ally for targeted makeup work!
For more information on these products or makeup techniques, speak to your cosmetician. It's easy and free!