Lacking inspiration for your manicure? These super-simple, brilliant ideas are great no matter what the occasion!
For great results…
Make sure your nails and cuticles are well moisturized: they'll be much easier to work with.
Don't start without a base layer: it's vital for protecting your nails and giving them a smooth canvas.
"Seal the deal" with a top coat that'll boost the colour and help it last longer.
Look 1: Graphic white
Give your nails a perfect coat of polish: apply thin layers so they dry quickly and add as many layers as needed to get an opaque look.
Once everything is dry (that's super important!), dip an ultra-fine brush in a golden or silvery polish and draw designs on each nail. Lines, polka dots… whatever suits your fancy!
If you're no expert when it comes to drawing perfect lines, don't worry. There are lots of manicure guides to help!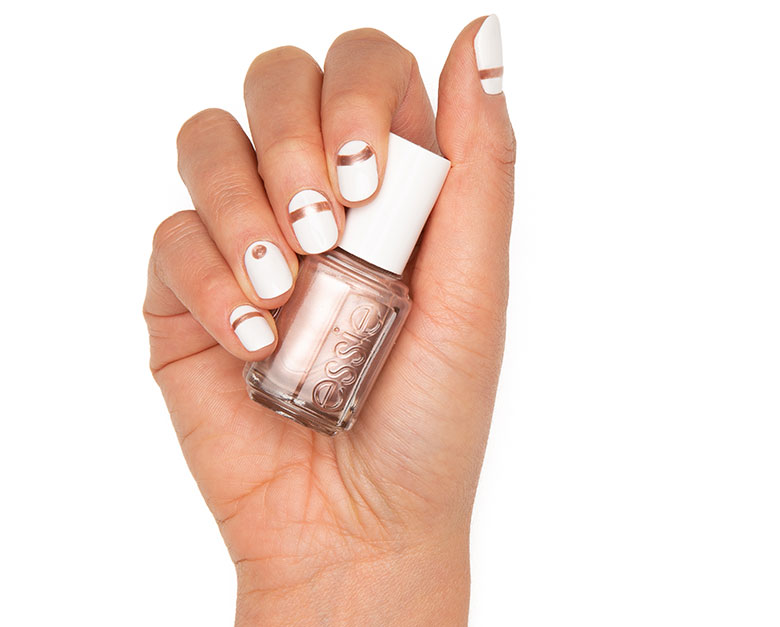 Look 2: Metallic pastels
This season, the mismatched manicure is queen! Give your nails the royal treatment and use two or three colours in similar shades – different types of blue, per example – plus one neutral colour, like white.
One by one, apply a colour to each nail. Mix up the colours however you wish: the only rule is that there are no rules! A continuous gradient, random colour mixes, repeating patterns… all that matters is that you have fun – and that you create a dazzling effect!