Gently exfoliate your skin
While you may think that exfoliating is a no-no for this skin type, it's in fact an essential for dry, irritated skin.
Good habit: once a week or so, apply a small amount of a very fine, gentle scrub to your face, then delicately massage it in with your fingertips to remove dead skin and surface debris. Not only will exfoliating give you smoother skin and a more even complexion, it will also allow your skin to better absorb the active ingredients of the creams you apply afterwards.
Deeply moisturize your skin
Moisturizing your skin with the right daily cream is the basis of any good beauty routine. But for dry skin, it is an essential, even vital step. Every morning and every night, apply a thin coat of rich, nourishing cream right after washing your face, while the skin is still a bit damp.
Good habit: ensure your skin is deeply hydrated by using a cream formulated with hyaluronic acid, an ingredient renowned for its lipid-restoring and firming properties.
Apply a hydrating base
Are you familiar with makeup primers? They are liquid or cream bases that you apply to your face after your moisturizer but before your foundation. They prepare the skin for shades and liners, enhance the colours and textures of your products and help your makeup last longer. In other words: primers are your best ally for makeup that holds all day and night.
Good habit: use a moisturizing base to boost your skin's hydration while also helping your makeup hold for extra long.
Opt for products with creamy textures
Did you know? If you suffer from dry skin, you'll want to avoid powders—including compact foundations, traditional blushes and classic eye shadows. Why? They make dry skin stand out and also tend to flatten and crack over the course of the day.
Good habit: opt instead for products with creamy textures, such as tinted BB moisturizers—which are great for enhancing the skin while also hydrating and illuminating it—and creamy or fluid blushes and illuminators. If you want more coverage, you can also use a protective liquid foundation with a moisturizer or anti-aging cream, as needed.
Trade your finishing powder for a makeup setting spray
For the final touch, you're once again better off with a hydrating setting spray rather than traditional mattifying powders. These sprays are perfect for setting your makeup for long-lasting hold.
Good habit: spritz the setting spray about 30 centimetres from your face, eyes closed, to set your makeup and liven up your dry skin with a burst of moisture.
Our suggestions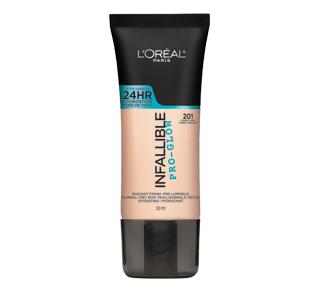 L'Oréal Paris
Infallible Pro-Glow Foundation, 30 ml
Longwear without compromise. Introducing the new pro-look of longwear, Infallible Pro-Glow. This longwear foundation gives a radiant finish with an all-day hydration and comfort. Achieve a lasting glow that is never dull, never greasy with this air-light, 24H foundation.