Removing your makeup is essential to keeping your skin healthy, but you might not always find the time to do it right. The perfect solution? Makeup remover wipes. Quick and practical, you should never leave your home without them!
Small budget
A tight budget is no excuse for neglecting your skin. Thanks to Personelle Cosmetics cleansing wipes with cucumber, chamomile and green ea extracts, you can take care of your skin without breaking the bank.
Micellar water
Perfect for removing makeup when you're on the go, Take the Day Off makeup remover wipes for the face and eyes by Clinique are soaked with micellar liquid to deliver a gentle cleansing effect. The result? You can remove your makeup in one step without irritating your skin. What's more, the resealable package allows you to bring them with you wherever you go.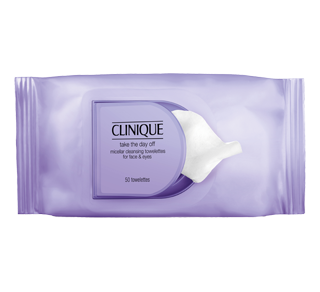 Clinique
Take the Day Off Micellar Cleansing Towelettes for Face & Eyes, 50 units
A packette of ready-to-go towelettes that whisk away face and eye makeup without irritation - or the need for water.
Eyes
For anyone who loves waterproof mascara, we suggest Marcelle eye makeup remover cloths. They'll remove makeup without irritating the eyes because they do not contain oil, perfume or alcohol. And their small size means you can easily slip them into any bag.
Biodegradable
For those who also want to take care of the planet while taking care of their skin, we suggest Klorane's soothing makeup remover wipes. Made with 100% biodegradable viscose fibre, they're also rich in cornflower water for effective, rinse-free makeup removal.
Foolproof
For a tough wipe that gets rid of even the most tenacious makeup, use Garnier's Super Comfort range of products. Thick and designed with air pockets, this wipe is imbibed with a double dose of cleansing milk. Nothing stands in its way.
Sensitive skin
To protect sensitive skin, use a wipe that doesn't contain greasy substances or alcohol. We suggest the Shiseido Pureness line of cleansing sheets. These gentle wipes are designed to preserve the skin's natural pH balance.