If you suffer from acne or visible scars, you know how important your makeup routine is. We've put together a list of products and tips that are sure to make you look and feel fabulous in no time!
Caring for your skin
Step #1
It's vital that you cleanse your skin fully every morning to remove the excess sebum produced during the night. For oily skin, we recommend using micellar water or a soft, soap-free cleansing gel. If you have dry skin, try a soothing, cleansing cream that's made for acne-prone skin.


Step #2
Apply a topical treatment to help treat your pimples.


Step #3
Acne-prone skin is often sensitive and irritated. So, it's important that you use a proper moisturizer, avoid abrasive products, and keep your skin protected from the sun. Look for a light, oil-free moisturizer with UVA and UVB protection and you can accomplish all three goals at once.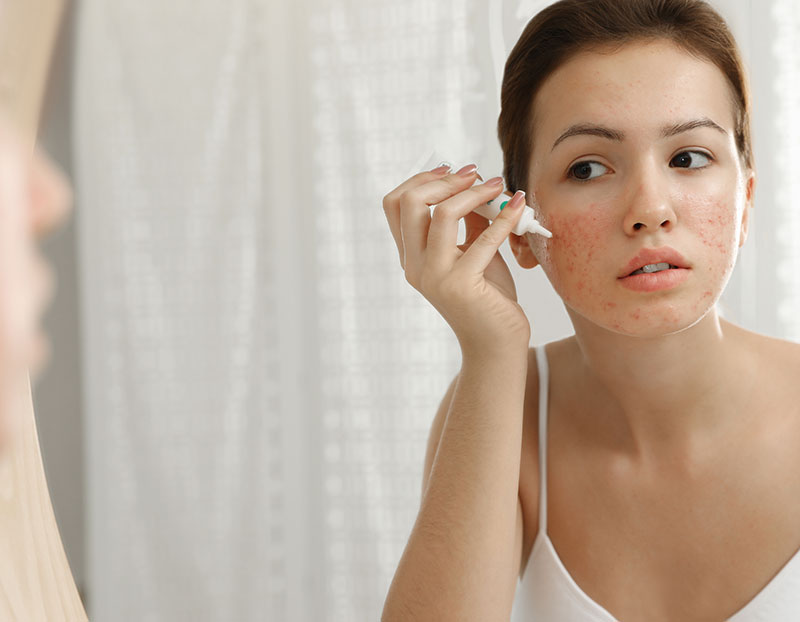 Good to know
It might seem counter-intuitive, but if you want to prevent your skin from becoming oily, it's important to keep it properly moisturized. The reason? Skin that's dehydrated tends to secrete more sebum to compensate for the lack of moisture.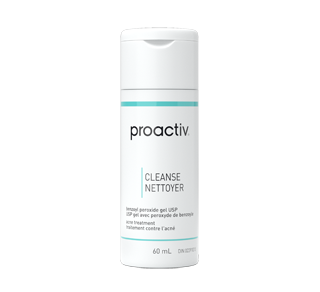 Proactiv
Cleanser Acne Treatment, 60 ml
This acne-fighting face wash is part of the original Proactiv solution system, developed to exfoliate skin while helping clear and prevent breakouts. Say goodbye acne and hello clear skin with this Proactiv renewing cleanser - perfect for your daily skincare routine!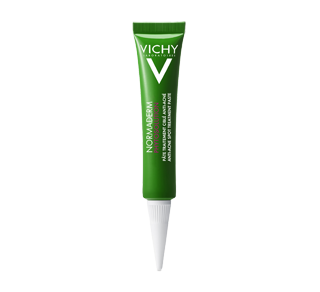 Vichy
Normaderm Phytosolution Anti-Acne Spot Treatment Paste, 20 ml
Anti-acne spot treatment with 10% sulfur, niacinamide & glycolic acid. Hypoallergenic. Tested under dermatological control, recommended by the Canadian Association of Dermatology, non-comedogenic, fragrance free & gentle. Dries out pimples overnight, reduces their number and severity, and helps prevent the appearance of new blemishes. Suitable for oily, acne-prone sensitive skin types.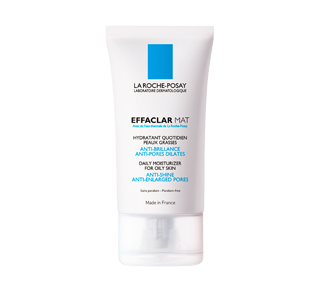 La Roche-Posay
Effaclar Mat, 40 ml
Sebo-regulating moisturizer. Controls shine and reduces pores. Oily skin. Suitable for sensitive skin. Oil-free blotting effect texture: Proven long lasting mattifying effect. Non-comedogenic. Tested under dermatological control.
Foundation
Before you apply your foundation, you should always use a thin layer of setting powder to ensure your makeup stays in place throughout the day. It also acts as a protective barrier between your skin and the products you use. You might also consider using a mattifying formula to help control excess shine.
Also, remember to choose non-comedogenic products that won't block your pores, which could generate even more acne.
Complexion
Once you've applied your base layer, it's time to conceal the blemishes and imperfections. You can achieve this by using a concealer that's the same colour as your skin or you can choose a colour that neutralizes the colour of the pimples and scars you're trying to conceal. Choose green to conceal red pimples, yellow for purple pimples and coral for brownish scars.
When you're finished, apply an oil-free, long-lasting, total coverage foundation using a brush or sponge, patting your skin gently. Then, using your concealer, highlight the area under your eyes to draw people's gaze to the centre of your face.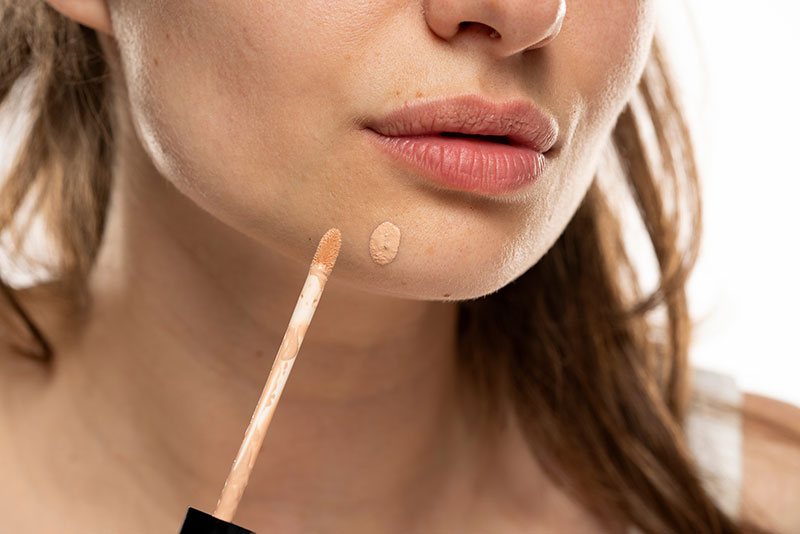 Watier
Portfolio Professional Correctors 4-in-1, 20 g
A five-way concealer spectrum designed to correct and conceal imperfections and under-eye circles. Enriched with soothing Magnolia bark extract to reduce the appearance of redness and imperfections.
The final touch
Use a translucent finishing powder to help ensure your makeup stays put throughout the day and your skin doesn't shine. Then, to complete your look, apply a bronzing powder to better define the contours of your face, and a natural shade of blush for a healthy-looking glow. Avoid mauve or pink shades, which will only emphasize any redness you might have. That applies to your eye shadow, too.
Good to know:
To avoid transferring bacteria from one area to another, always ensure your hands and brushes are clean before you apply your makeup. Make sure you've got a sanitizer within easy reach of your makeup table, and some disinfectant spray to clean your brushes without rinsing.