Does the skin of your brow bone droop over your eyelids, making them look heavy? Whether it's due to aging or your face's physiognomy, this drooping can make you look fatigued. But don't worry, your makeup kit contains everything you need for a little lift! Here's what to do: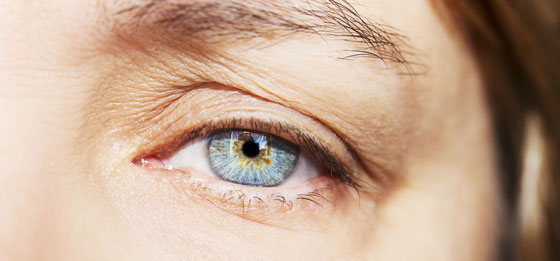 Start with a makeup base. In addition to increasing the intensity of pigments and prolonging their hold, this product has a smoothing effect– perfect for droopy eyelids, which tend to wrinkle.
Apply a pale eye shadow to your upper eyelids and along the roots of your lower lashes.

Warning: if you have deep wrinkles, dark circles or bags under your eyes, it's best to apply makeup only on your upper eyelid.
Next, use a slightly darker shade (like medium brown) to sculpt your eye creases. Pull your lids up from the brow and apply the eye shadow above the area where your eye droops. This will make your outer lids appear more arched.

Pro tip:
Smooth out the colour gradation on your upper eyelids so you don't end up with a colour that's too dark, weighing down your eyes.
Avoid shimmery eye shadows: they draw attention to sagging eyelids.
Also avoid dark colours on your lower eyelids: they can make you look tired.
To add more definition to the outer corners of your eyelids, apply a dark colour, like black or charcoal. Use a precision brush, starting from the lower, outside corners of your eyes up to the creases (basically creating a sideways V on each eye). Be sure not to cross the imaginary lines connecting your lower lashes to the edges of your eyebrows. And remember to blend the eye shadow well!

With a black pencil or liquid liner, draw a line across the outer half of the upper lashes of each eye, being sure to draw the lines slightly upward to give your eyes a little lift. But don't draw your lines too thickly: you want a light look, not a heavy one!
Pro tip: For perfect cat eyes, make sure to follow that imaginary line we just mentioned—from the outer edge of each eyebrow to the outside corner of each eye.

Curl your lashes (the entire length of each one) for a natural, wide-eyed finish. Next, apply a coat of mascara–but only to the upper lashes!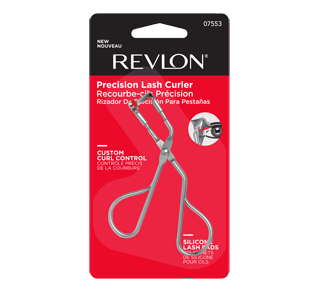 Revlon
Precision Lash Curler, 1 unit
The Precision Lash Curler is designed for custom curl control. Curl just the outside corner lashes for a wide-eyed winged look, or catch the lashes that traditional curlers may miss. And short, hard-to-curl lashes don't stand a chance against the narrow front plate that curls right from the lash line. Why is ours better? Our curler is designed to curl the inner and outer corner lashes that even the best traditional lash curlers may miss.
For the finishing touch, brush your eyebrows upward, filling them in with a shadow or pencil that matches their colour. For eyes that really pop, cheat a little by creating even more of an arch above your natural brow line.
Avoid:
Mascara on your lower lashes
Dark eyeliner or eyeshadow below the eyes