After a long day (or a long evening!), you might be tempted to skip the makeup removal. But if there's one part of your beauty routine you should never neglect, it's this one. Why is it so important? And what products make it easier? Here's a quick look.
MAKEUP REMOVAL: THERE'S NO GETTING AROUND IT…
To let your skin breathe
Makeup, sebum, pollution… by the end of the day, your skin is suffocating under all the accumulated impurities. If you don't get rid of them, you could end up with irritated skin or pores that are either dilated or blocked. And you know what that means: zits and comedones!
To maintain your radiance
Dirt and leftover makeup prevent your dead skin cells from being removed naturally. So, they stay on your skin, tarnishing your complexion. How do you keep your skin looking fresh and alive? Exfoliate twice a week and remove your makeup every day!
To avoid premature aging
Impurities can damage the hydro-lipidic layer – the water and natural oil that help the skin do its job of protecting your body. If it's vulnerable because the layer is damaged, your skin becomes more exposed to aggression and the intrusion of free radicals, which accelerate the oxidation process that leads to signs of aging.
To get the most out of your care products
When the pores are free of blockage, skincare products can penetrate more fully and easily. Proper makeup removal also enables serums, creams and masks to work as effectively as possible.
Don't forget about your eyes! Daily removal of foundation, mascara and liner is crucial to avoiding infections and irritations, and to prevent lashes from falling out prematurely.
THE IDEAL MAKEUP REMOVAL ROUTINE
Start with your eyes. With your eyes closed, apply a makeup removal pad that's been soaked in cleanser to your upper eyelid and leave it there for a few seconds. Then wipe it from the interior outwards. Repeat the operation to remove mascara, from the top of your lashes downward. Remember: the area around your eyes is one of the most fragile of all, so be gentle!
For your face, use a soft washcloth, a ball of cotton or a towelette. Be sure you remove all the makeup. If there's any left on your cloth or wipe, the job isn't finished. Remember to be gentle here, too. Rubbing too vigorously increases the risks of irritation.
The essentials: use a product created specifically for your skin type and for the type of makeup you're trying to remove.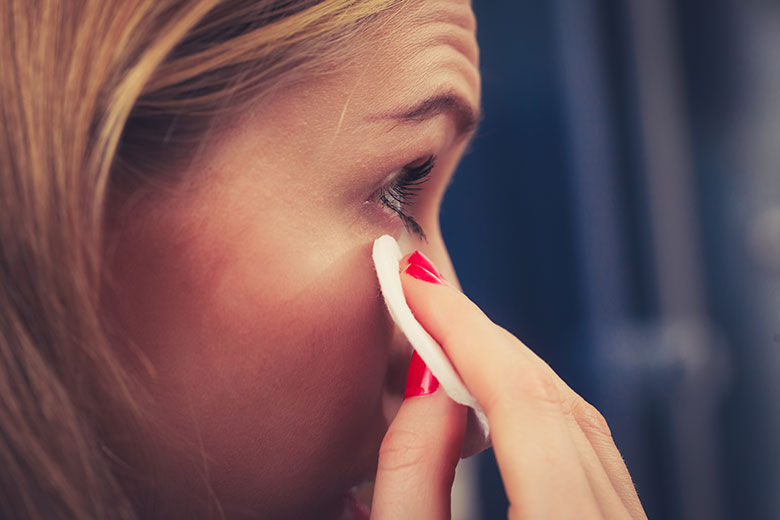 TO EACH HER REMOVER
Makeup removal milk
Liquid and highly enveloping, it moisturizes and cleanses gently. A must for sensitive skin.
Biphasic cleansers
Ideal for dry skin… but the worst enemy of waterproof makeup! Part oil and part aqueous solution, biphasic cleansers dissolve the fatty material in makeup easily while nourishing your skin and balancing its natural production of sebum.
Micellar water
This no-rinse solution is ideal for sensitive or dehydrated skin and can be used on your face, eyes and neck all at the same time. The translucid particles in this product (the micelles or micella) help trap impurities and whisk them off your skin.
Cleansing towelettes
The perfect way to remove makeup quickly when you're on the road or at the gym. One important note: if you use waterproof or long-lasting makeup, make sure you buy the proper towelettes or you might be in for a long scrub!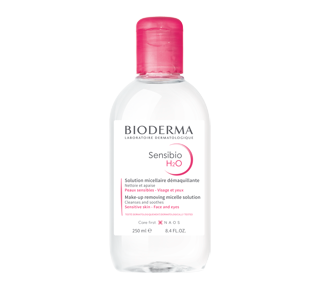 Bioderma
Sensibio H2O Micellar Water, 250 ml
A cleansing and make-up removing water that respects the fragility of sensitive skin.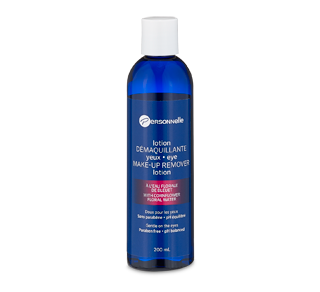 Personnelle Cosmetics
Eye Make-Up Remover Lotion with Cornflower Floral Water, 200 ml
Gentle on the eyes, paraben free, and pH balanced.