Grey hair are increasingly trendy and you can now achieve this look at home. In addition to being much more affordable than an appointment with a hair stylist, maintaining your new colour is as easy as can be if you follow these tips.
Pick the perfect grey
Until recently, you had to make an appointment with a professional hairstylist if you wanted to go for something a little extravagant. But those days are over because cosmetic companies have heard us (yay!) and now offer stylish new hair colours you can do at home. When it comes to silver or grey, pick a colour that's relatively pale to maximize the chic factor and enhance the contrast with your complexion (and age!). If you're feeling bold, you can choose a product with blue or purplish undertones, a nod to recent pastel trends!
We suggest: L'Oréal Paris Feria Smokey Pastels #P1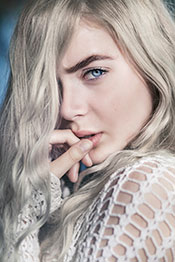 Use the right blue shampoo
To prevent your colour from turning yellowish after a few weeks, use a blue shampoo. It's the perfect solution at an affordable price and will prevent your dye from taking on unwanted copper or golden hues. The shampoo doesn't dye your hair, it simply deposits a temporary pigment to even out the colour. But be careful! If you don't want to maintain a blue tint, use it in alternation with a shampoo for colour-treated hair.
We suggest: Klorane Silver highlights shampoo
Hydrate your hair
Hair that's been colour treated has a tendency to dry out. To prevent this from happening, use a moisturizing mask on your hair once or twice a week. It will make your hair supple, soft and shiny again.
We suggest: Garnier Whole Blends Honey Treasure mask
Make your hair shine
To keep your coloured hair hydrated and give it a lustrous shine, apply two or three drops of serum or oil on your locks. The hair fibre will absorb the oil which will make your hair shiny and beautiful. To avoid the greasy look, use the product on damp hair, focusing on the bottom part of the hair, from your chin down.
We suggest: Nexxus Oil Infinite, Dry Hair