To look beautiful, you don't have to use every single beauty product you own! Here are some skin care, cosmetic and hair products that are practical and easy to use.
For your face and eyes
After thoroughly washing your face and eye area with a no-rinse makeup remover, apply IDC's Regen Express Perfection cream. This multi-benefit moisturizer for the face, eyes and neck is formulated with SPF 15 to protect your skin from the sun.
To focus more on the eyes and give yourself a younger look in just a few seconds, try Lancôme's Visionnaire Eye Cream. Its new, lightly tinted formula tackles those dark circles and fine lines while evening the texture of your skin.
Flawless makeup
To smooth your complexion and cover those pesky little blemishes, use Personnelle Cosmetics' Makeup Primer. This product prepares the skin before you apply foundation and other powders for makeup that is even, stable and long-lasting. It reduces the appearance of wrinkles and fine lines and adds radiance. It can also be used on its own for a natural look.
Next, apply Lise Watier's Luminous Foundation. Its innovative oil-free formula offers light, adjustable coverage for an even, luminous complexion. This product is available in seven shades and gives you a second-skin effect.
Apply Lancôme's Grandiôse Mascara for a stunning look. Its revolutionary swan neck wand makes application a breeze and covers lashes from root to tip for exceptional length, lift and volume. And to frame your look, tame your eyebrows with a small brush.
Lastly, make your lips look luscious with Revlon ColorBurst Lipgloss, which brings together the shine of gloss and the intense colour of lipstick.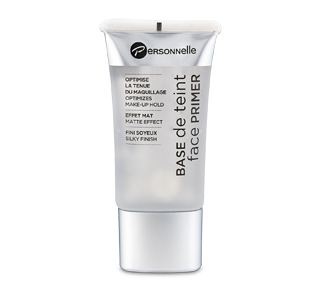 Personnelle Cosmetics
Face Primer, 30 ml
Makeup primer is specially designed to cover up skin imperfections, brighten the complexion and extend the wear of foundation and other powders. Ideal for mattifying and smoothing the skin, the Personnelle Cosmetics Face Primer reflects light and enhances your makeup, rendering it flawless, even and long-lasting. In addition to preparing your skin for makeup, it reduces the appearance of fine lines and wrinkles. It has a silky, beautiful finish. Tip: Skip the foundation and just use primer for a more natural look. An essential step in your beauty regimen!
Head-turning hair
If you want to freshen up your do without jumping in the shower, try a dry shampoo. By absorbing excess sebum on the scalp, it adds volume and lightness to your hair in just a few minutes. Klorane, TRESemmé and Dove offer a variety of choices.
For those with dry, unruly or frizzy hair, Phytolisse Serum is your best friend. Put a few drops in the palm of your hand and apply it to your hair, concentrating on the tips. The result: soft, silky, vibrant hair.
To control hair without weighing it down, mist Phytolaque Soie hairspray over all your hair. This finishing spray with silk fibres doesn't stick and is easy to brush out.
Des mains et des ongles impeccables
Mains sèches ou gercées? Massez vos mains avec une crème, en ne négligeant pas les ongles et leur pourtour.
Finalement, réalisez une manucure longue durée avec les Insta Gel Strips, de Sally Hansen. Ces bandes de vernis au gel LED s'appliquent en un tournemain! Elles ne requièrent aucun temps de séchage et s'enlèvent facilement avec un dissolvant à l'acétone.