Your curly hair is the envy of the town, but you'd rather have a frizz-free, silky smooth straight style? No need to drag yourself to the hair salon! Here, you'll find ways to tame your wild curls, and emerge with a polished, elegant do!
Select a straightening shampoo and conditioner that's specially designed for curly hair
The key to a good hair-straightening product is its ability to relax the hair: by unfurling your hair to the max, these products give you that smooth look you so crave!
Stay away from products that contain silicone; they'll just way your hair down.
We like:
EverSleek Intense Smoothing Shampoo, by L'Oréal
A shampoo that straightens hair without weighing it down, and that provides 48-hour frizz-control. Made with argan, sunflower and olive oil, it makes your hair silkier and easier to style.
Apply a straightening serum
after you've washed and conditioned your hair with a straightening shampoo and conditioner.
We like:
Phytodéfrisant Botanical Straightening Balm, by Phyto. With marshmallow, ferula asafoetida, sage, and horseradish extracts, this product can tame even the wildest hair.
Frizz-Ease Hair Serum, by John Frieda. A serum designed for dry to very dry frizzy hair. Say goodbye to stubborn, frizzy hair!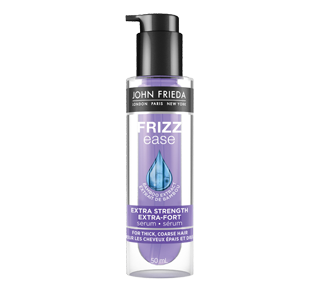 John Frieda
Frizz Ease Extra Strength 6 Effects + Serum, 50 ml
Award-winning formula instantly eliminates chronic frizz and repels humidity for glossy, silky-smooth styles.
Dry your hair while combing out the curls using a round brush
Separate your hair into large sections and, using your brush, dry them one by one by directing the heat from your hair dryer downwards.
We like:
Use a straightening iron
Once your hair is dry, use a straightening iron.
We like:
John Frieda Sleek Finish 1-inch flat iron
Spray on some straightening hairspray
To make your newly straightened hair last longer and to keep everything in place, spray a bit of straightening hairspray onto the ends of your hair.
We like:
Sleek & Shine Anti-Humidity Hairspray, by Garnier
Made with bamboo, this hairspray guarantees long-lasting hold and softer hair.