Ah, dandruff! The sworn enemy of dark clothing, it has made life harder for many of us at one time or another. How do you get shiny hair and make your scalp healthy again? To get rid of dandruff, you first need to learn how to distinguish the types of dandruff.
Where does dandruff come from?
In some cases, dandruff is the result of having a dry scalp. It can also be caused by a microscopic fungus in your scalp that remains inactive most of the time. The problem occurs when it starts to proliferate. The scalp's cells, which usually renew once a month, start to regenerate at a quicker rate, causing an accumulation of dead cells and producing visible skin flakes in your hair.
This lovely fungus, called "pityriasis", feeds on the fatty acids in sebum. It then produces other acids that irritate the skin on the scalp, which explains why you often experience itchiness when you get white flakes. The scalp's defence? To produce even more cells, which only makes the situation worse.
Dry or greasy flakes?
There are two sorts of flakes: dry and greasy.
It's important to distinguish between the two
because they are not treated in the same way.
Dry flakes
Dry flakes are small and white. Those are the ones that end up on your shoulders and clothes: they fall like snowflakes (but not as pretty!) when you style your hair or tussle your locks. This kind of dandruff is common in people with a normal or dry scalp. They are the most common type and thankfully they're easy to treat with a dandruff shampoo. In fact, shampoos that treat dandruff have greatly improved and now make hair extra shiny and soft in addition to getting rid of unwanted flakes. Hallelujah!
Greasy flakes
Greasy flakes are visibly bigger than dry flakes. They clump together and stick to the scalp, suffocating it and even causing your hair to fall over the long term. Greasy flakes are also more likely to cause itchiness. This is a condition that is often difficult to control and some people affected might need to consult a dermatologist.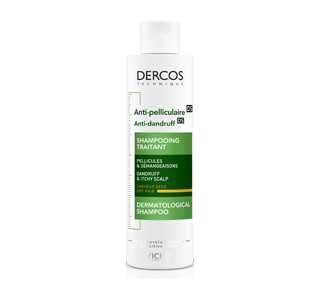 Vichy
Dercos Dermatological Shampoo Anti-Dandruff for Dry Hair, 200 ml
The Vichy Dercos Anti-Dandruff Shampoo acts on visible dandruff from the very first application. The scalp regains all its health, dandruff is eliminated. Reduces dandruff. itchiness & irritations. Hypoallergenic and paraben free. Efficacy tested under dermatological control. Vichy's engagement Tested on sensitive skin under dermatological control. Hypoallergenic With soothing and fortifying Vichy Thermal Mineralized Water Paraben free