Need to relax? Give yourself the luxury of a spa treatment, right in the comfort of your home. Essential oils, masks, scrubs... Here are a few ideas to help you get started.
1. Create a relaxing atmosphere.
First, make sure you have some time to yourself. You don't want anything stressful interfering with your relaxation!
If your bathroom has windows, close the curtains or blinds.
Light a couple scented candles, or add a few drops of your favourite essential oil to your diffuser.
Cue up your favourite relaxation playlist.
If you have a heated towel rack, turn it on and put your bath robe on it to keep it warm and soft.
2. Draw your bath.
Once everything's ready, fill your tub with hot water (not too hot!), then add some bubble bath or Epsom salts.
For a new twist, try fragrance-free formulas and then add the natural essential oils of your choice. Here are three blends that are perfect for relaxation:
Bergamot, patchouli and ylang-ylang.
Lavender, chamomile and vetiver.
Vetiver and cedar.
Eucalyptus and citrus oils, like clementine and grapefruit, also help reduce stress and release tension. If you're experiencing muscle pain, mint can also offer some relief.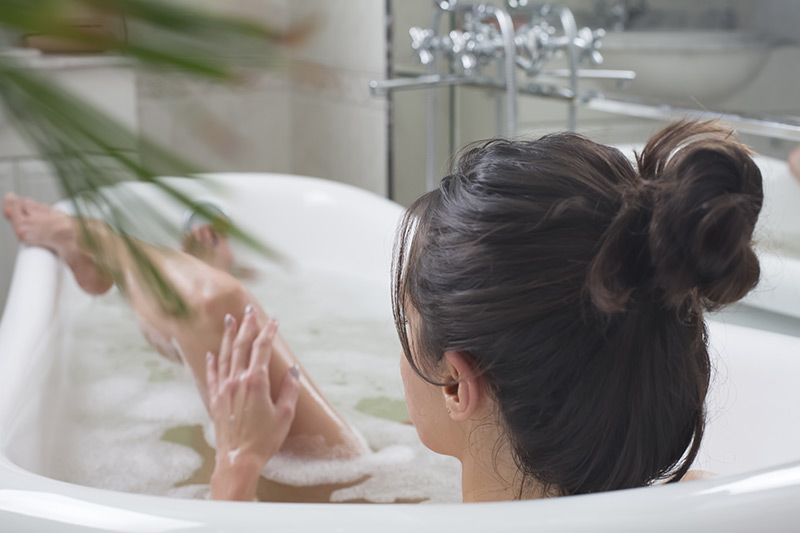 Good to know...
Go easy when creating your blends. Essential oils are highly concentrated, so a small amount is plenty to enjoy the desired effects.
Before using essential oils for the first time, do a skin test to ensure your skin tolerates the oil. It's a good way to avoid unpleasant surprises.
3. Pamper your skin properly…
It's time to give your skin the royal treatment. After all, this moment is all about you.
Using small circular motions, apply an exfoliating scrub or peel to your clean, makeup-free face to remove dead skin cells and impurities, boost your skin's radiance and make it more receptive to skin care. Repeat the process over your entire body using a specialized formula.
Cover your face with your favourite mask and let it soak in for 15 minutes for optimal absorption. Want the total experience? Combine it with eye patches!
While you're waiting, cleanse your body with a shower gel that features nourishing, softening and firming properties.
When you get out of the bath, massage a serum into your face and neck before applying your usual moisturizer. Then coat your body with a rich moisturizing cream, focusing on the rougher areas, like your elbows, knees and heels.
Good to know...
Avoid drying your skin too thoroughly before you use your moisturizers. Applying them to moist skin helps optimize absorption, boosting their effects.
4. Prolong the pleasure
Finally, wrap yourself in your warm bathrobe, get comfy in your bed or sofa, and enjoy this moment of relaxation by savouring a good cup of herbal tea with relaxing aromas. Enjoy!