Skin care, hair products, makeup ... in recent months, hemp oil is everywhere. What makes this ingredient so amazing? Let's take a look.
THE CHARMS OF HEMP
Extracted from the seeds of the plant, hemp oil is a very powerful potion. Rich in vitamins A, B and E and in minerals and amino acids, it also has a very high concentration of essential fatty acids (EFA) like omegas 3 and 6. Its moisturizing and nourishing effects have an antioxidant effect. Talk about multifunctional!
Is hemp cannabis?
Yes, but the kind used in cosmetics is not the same as the one used for recreational purposes. Hemp oil contains no (or very little) THC, the substance that gives recreational cannabis its psychotropic effects. What they have in common is CBD, known for its soothing and anti-inflammatory properties.
A LITTLE TLC FOR EVERY SKIN TYPE
The EFA concentration in hemp oil not only slows down the oxidation of cells, it gives hemp oil a profile similar to that of the natural lipids of your skin. It penetrates your skin easily (and doesn't leave a greasy film!), balances sebum production and provides what your skin needs to retain moisture and block daily aggressors (sun, wind, irritants, free radicals, etc.). It's an ingredient of choice for healing, slowing the aging of the skin and adding pep to dry or tired skin. Not surprisingly, hemp oil is increasingly found on the labels of facial moisturizers, lip balms, dry oils and after-sun care.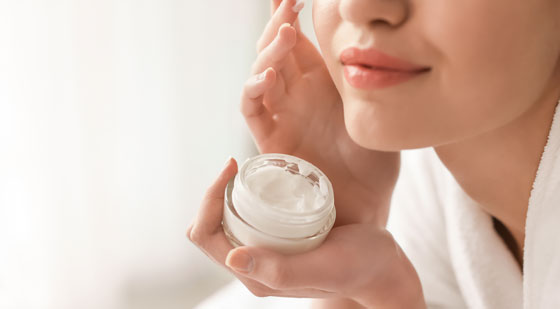 How about your makeup bag?
It, too, is filled hemp products! Hemp oil increases the nourishing and plumping power of foundation, facilitates the application of mascara and eyebrow gels and makes blotting papers able to mattify your skin without drying it. It's also perfect for vegan-friendly formulas!
HEMP FOR YOUR HAIR
Amino acids: that's what hair needs to maintain its vitality. And that's what hemp oil has in abundance. Hemp oil fortifies your hair cuticles by sheathing them, while its moisturizing properties reinvigorate dry or brittle hair and maintain the pH balance of your scalp. Shampoos, conditioners, nourishing treatments: hemp oil is everywhere!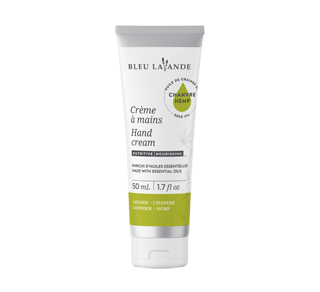 Bleu Lavande
Lavender-hemp hand cream, 50 ml
Ideal for sensitive and very dry skin, our hand cream's formula offers hydration and intense protection.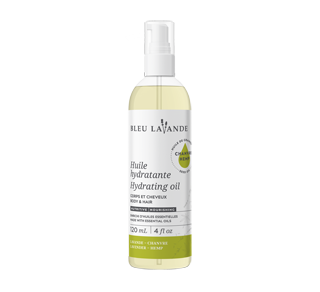 Bleu Lavande
Lavender-hemp hydrating oil, 120 ml
This oil gives intense hydration to the skin in addition to revitalizing and strengthening the hair. The perfect nourishment from head to toe.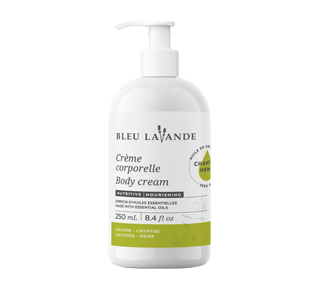 Bleu Lavande
Lavender-hemp body milk, 250 ml
This body cream provides a daily deep hydration for silky and healthy-looking skin.