Soft, unkempt, short, long, straight, wavy, in a bun…the half-up ponytail can be worn many ways. Here's a quick peek at this ultra-simple look that's easily adaptable to any type of hair or style.
AS EASY AS 1, 2, 3!
What does it take to create a great half-up ponytail? A few minutes, a metal-free elastic and three easy steps. Ready?
First, work your hair texture. Whether you want it straight or naturally wavy, your hair has to have enough body and it's got to be easy to work with. So, ideally, you want to avoid washing your hair just before you create your style… a little bit of "wear" will add needed texture. If your hair seems a little flat or sticky, a few sprays of dry shampoo should add a little bounce.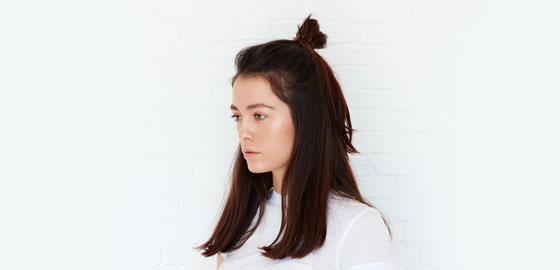 Next, make your ponytail. Where do you want it? On top of your head or a little further down? Once you've decided, take a quarter of your hair length, fringe included, and knot it at the desired height.
Add the finishing touches. Depending on the look you're going for, you can add a little personal style by pulling some hair out around the elastic, smoothing out some sections, retouching some curls… And remember to give your hair a few sprays of natural-finish lacquer to ensure long-lasting hold.
ONE HAIR STYLE, TWO VERSIONS
The straight version
For a glam variation, place the ponytail at the back of the head, making sure you straighten out the entire tail. To avoid having rebel curls sticking out and ruining your look, prepare your hair properly by washing it with an anti-frizz shampoo and as soon as you're out of the shower, applying a smoothing lotion that will protect your hair against the heat of styling devices. Then dry your hair with a brush and blow-dryer or use a straightening iron.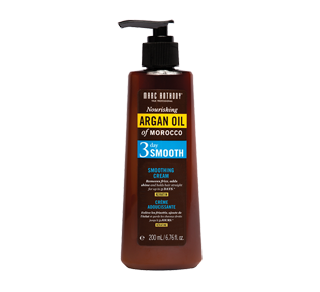 Marc Anthony
Nourishing Argan Oil of Morocco 3 Day Smooth Perfect Blow Dry Cream, 200 ml
Holds hair straight frizz-free and shiny for up to 3 days*. For all hair types.
The wavy version
This faux disheveled look offers total elegance without the effort. Just use a relatively wide curling iron, say, a 1" diameter or more, and curl your hair randomly, creating gentle, casual loops. No tight curls, please! To highlight the natural feel and definition, lightly brush your hair and finish with a little texturizing spray.
For a quick coiffure, use a little curling cream or spray on moist hair. Then, with your head lowered, crimp the strands by hand. Now just dry your hair and tie it up! Easy, right?
WHAT ABOUT ACCESSORIES?
They're more in than ever, so don't miss out! Give your chic hairstyle some sparkle with brilliant clips, or go for a bow, this summer's fave, and add a little colour to more casual looks.