Dry or oily hair, dandruff, premature hair loss... Many problems can affect our head.Fortunately, there are many products to solve them!
Problem: I have dandruff.
Dandruff can multiply due to a number of factors: excess sebum, dry skin, pollution, irritation, perspiration, intense hair treatments. Here's how you can get rid of it.
Solution: Whether it's dry or oily, you can get rid of your dandruff by regularly using a medicated shampoo that contains selenium sulfide. This active ingredient also relieves itchy scalps and gets rid of visibly dry skin.
Use the anti-dandruff shampoo at least three times a week. Massage your scalp with a good dose of the shampoo and rinse it off thoroughly after letting it sit for a few minutes. If possible, use an anti-dandruff conditioner. You don't want to undo the effects of the anti-dandruff active ingredients!
Problem: I'm losing my hair!
Hair that lacks shine is often dehydrated, damaged or weak. Stress, pollution, an excessive use of hair dyes or the changing of the seasons can cause the scales that make up the cuticles–the outside of the keratin fiber that hair is made of– to peel off. Your hair will reflect light less effectively, losing its shine, and become porous and at the mercy of aggressors. No wonder it looks lifeless!
Solution: To restore some shine and silkiness, pamper your hair with a highly nutritious and repairing shampoo or with a keratin-based capillary-plumping mask.
PROBLEM : HELP! MY HAIR IS THINNING!
Your hair's natural separation seems wider than before? They don't seem as thick as they used to be? Those are signs of density loss: when their growing phase gets shorter, hair also get thinner and less visible. This phenomenon may have multiple causes: heredity, hormonal changes, scalp irritation or vascularization issues…
Solutions: Add fortifying, purifying and revitalizing products to your hair care routine. They will restore your hair's vigor, preserve the integrity of the hair fiber and tone the scalp.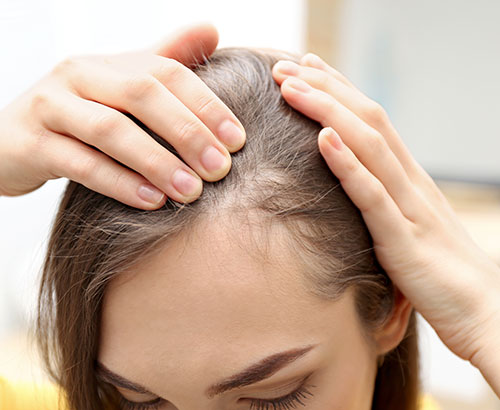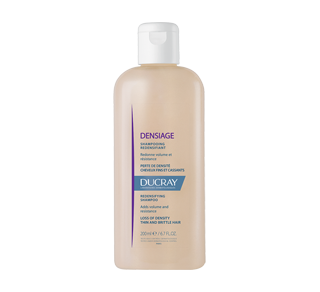 Ducray
Densiage Redensifying Shampoo, 200 ml
Densiage redensifying shampoo restores suppleness and density to fine and brittle hair due to hair aging. It is the only shampoo against hair aging that acts on both the hair and scalp. Respects hair coloring 83% ingredients of natural origin Biodegradable formula Fruity fragrance with notes of apple, bergamot, jasmine, musk etc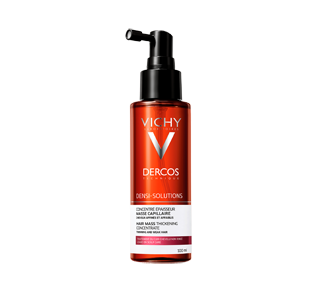 Vichy
Dercos Densi-Solutions Hair Densifying Concentrate, 100 ml
Dercos Densi-Solutions hair densifying concentrate acts from the scalp for stronger, healthier and denser-looking hair.
PROBLEM: I HAVE A SENSITIVE SCALP
Itching, irritation and sensations of tightness can be caused by environmental aggressions (pollution, calcar, UV rays, etc.), by stress or by ill-used shampoos. All these factors lead to the production of free radicals that may affect the hair bulb.
Solutions: Use gentle product that are specially formulated to soothe and protect sensitive scalps. (Make sure to rinse them well so that there's no residue left!) Also remember not to tie your hair too tightly and to cover your head when you go outside.
Problem: My hair is oily
Factors such as hormonal changes, stress or pollution can cause the glands at the roots of your hair to produce too much sebum: hello, greasy hair!
Solution: A solution: try a light-formula, pH-neutral shampoo designed to eliminate excess sebum. Be sure not to use too much at a time and rinse carefully by rubbing gently so you don't over-stimulate the glands. You can also treat your hair two or three times a week with a green clay mask: besides offering your scalp a deep cleansing, this type of clay absorbs oil particularly well and balances its production.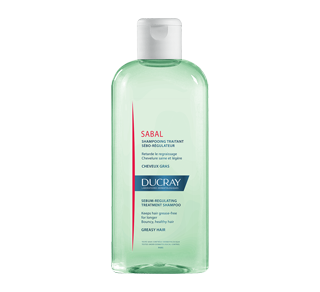 Ducray
Sabal Sebum-Regulating Treatment Shampoo for Greasy Hair, 200 ml
Visibly reduces oily hair appearance. For healthy and light hair.
Tips for keeping your hair healthy
To do: Whether you have a dry, normal or oily scalp, you should wash your hair two to three times a week at the most to avoid overstimulating sebum production. Can't wait that long? Say hello to your best friend: dry shampoo. Sprayed on your tired roots, it will "drink up" excess oil and restore volume and lightness.
To avoid: Don't overuse styling products and try not to apply them too close to your roots (to avoid the greasy look!). It's also ill-advised to lie down with damp or wet roots: this will irritate your already sensitive and inflamed scalp even more.