30 or 40… that's about the age that most people start seeing a little grey hair. What causes it to appear and how to deal with it? We've got the answers.
Why does hair become grey?
The gradual greying of the hair on our head and body is a natural phenomenon that occurs as we age. It is caused by a lack of melanin (the pigment present in our hair and body) or when the transfer of the pigment to the hair fibres is blocked or compromised. Studies on the causes of greying hair come to differing conclusions but genetics and changing hormones in the body seem to play a key role. Stress, tobacco use and UV rays are also linked to greying hair.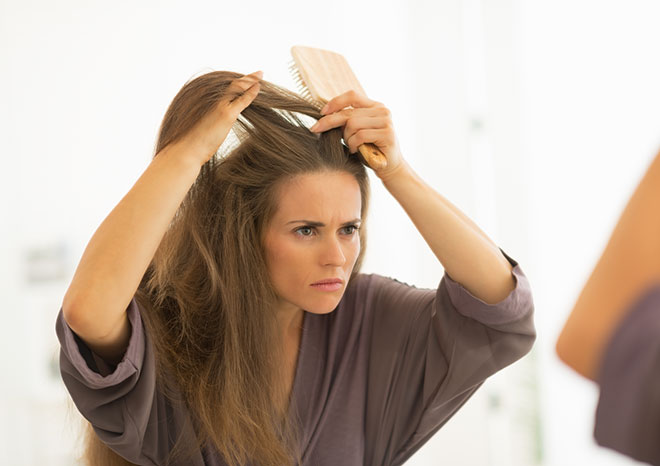 Can you slow down the greying process?
Some people maintain that being zen or reducing stress can help slow the appearance of grey hair. And while that has not been proved, certain good habits can help keep your hair healthy no matter what colour it is. These include regular massaging of the scalp to encourage growth, quitting smoking and maintaining a healthy diet rich in low-fat proteins, minerals and vitamins.
What to do when your hair starts greying…
1. Colouring
The first signs of grey hair are easy to mask with touch-ups or highlights, which, as an added bonus, add texture to your hair. If more than half of your hair is grey, you could opt for colouring your entire head. What you want above all is a well-pigmented product enriched with oils that will penetrate to the core of the capillary fiber and fully nourish your hair. Good coverage will ensure you don't have to recolour your hair too often and active moisturizers will prevent your grey hair, which is naturally drier, from becoming rough or frizzy.
In terms of maintenance, you should be ready to retouch your roots every four weeks or so. For the rest of your hair, wait until it's two shades lighter than the rest of your head. Trying to space out your colouring as much as possible? Turn to after-shampoo products for coloured hair and moisturizers. They're your best allies.
To make the most of your home colouring…
Make sure your hair is free of any residual styling producs: traces of lacquer, pomade or gel will prevent the pigment from fully penetrating your hair.
First, apply the colour to the most visible areas, like the temples and the top of your head. They'll have more time to penetrate and cover the most grey hair. If you have long hair and you're afraid you won't have enough colour, always have a second box on hand just in case.
Before rinsing your hair, wet it a little and rub it vigorously as though you were trying to create a foam. Emulsifying the colour makes it penetrate more evenly!
If possible, wait two days after colouring your hair before you wash it: the pigment will have a better chance of penetrating your hair and lasting.
2. Try natural re-pigmentation
Can you reverse the process of greying? The question is still up for debate, but that's certainly what Phyto Laboratories is trying to do. By using the RE30 peptide, a patented molecule, they have created a 95% natural serum capable of reactivating the transfer of natural pigments from the bulb (the living portion where melanin is created) to the capillary fibres. Just spray the formula onto the roots of the hair eight times then massage for 30 seconds. Do that every day and you'll slow the hands of time…at least where greying hair is concerned.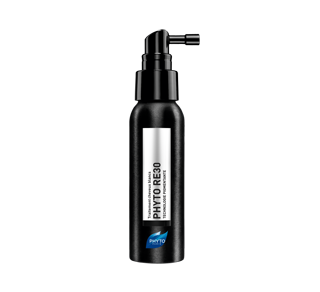 Phyto Paris
Phyto RE30 Grey Hair Treatment, 50 ml
Delay and reverse grey hair. Phyto invents Phyto RE30, an anti-grey hair treatment without pigment dye. The RE30 peptide, which is the result of 6 years of research, is revolutionary technology. RE30 is able to revive the natural pigment to the hair at the root while protecting it from future depigmentation. The results are clinically proven: repigmented at the root, the hair will find strength and softness.
3. Go with the salt-and-pepper look!
Dame Judi Dench and Jamie Lee Curtis look fabulous with their salt and pepper hair. And so can you! To make the most of it, choose a modern hairstyle like the square, go pixie or let your hair down a bit. Whatever look you choose, you have to take good care of your hair. Keep it moisturized with products created specifically for coloured hair and keep it from yellowing by using a blue, violet or silver-tinted shampoo a few times a week.
Blue or violet? Why? On the colour wheel, both of these colours are the opposites of yellow, so they're perfect for neutralizing it.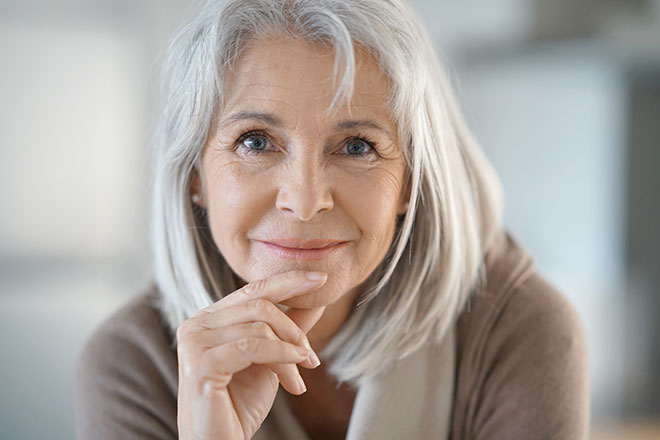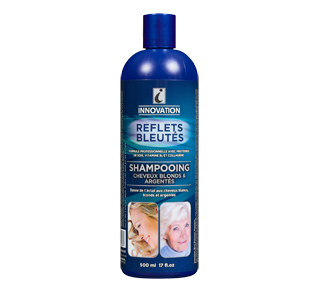 Innovation
Blue Shimmer shampoo, 500 ml
Professional formula with silk proteins, vitamin B5 and collagen. Enhances shine for white, blonde and silver hair